Leatherback sea turtle nesting. / Owen Humphreys/PA Wire via AP Images
The world's largest turtle, the Pacific leatherback sea turtle, faces extinction over the next 20 years.
A team of scientist has documented a 78 percent decline in the number of nests of the leatherback sea turtle in the Pacific Ocean.
The study looked at leatherback sea turtle nests in a region that accounts for 75 percent of the total nesting in the western Pacific.
The results were startling and worrying for the animal named California's official marine reptile.
The number of animals nesting in the region had fallen from a peak of 14,455 in 1984, to 1,532 in 2011. Fewer than 500 nest at this site annually now.
The study was published online in the Ecological Society of America's journal Ecosphere.
The species has been considered endangered since 1970.
Catherine Kilduff of the Centre for Biological Diversity said the study was "a grim warning".
Species closest to extinction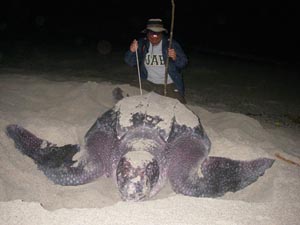 "We're not doing enough to save leatherback sea turtles or their ocean home. The problems they face — climate change, plastic pollution, fisheries that catch far more than fish — are problems that threaten us, too," said Kilduff Thane Wibbels, Ph.D., a professor of reproductive biology at the University of Alabama at Birmingham and member of a research team said the largest marine turtle in the world could soon vanish.
"If the decline continues, within 20 years it will be difficult if not impossible for the leatherback to avoid extinction," said Wibbels, who has studied marine turtles since 1980. "That means the number of turtles would be so low that the species could not make a comeback.
"The leatherback is one of the most intriguing animals in nature, and we are watching it head towards extinction in front of our eyes," added Wibbels.
Leatherback turtles can grow to six feet long and weigh as much as 2,000 pounds. They are able to dive to depths of nearly 4,000 feet and can make trans-Pacific migrations from Indonesia to the U.S. Pacific coast and back again.
The study identified four major problems facing leatherback turtles, nesting beach predators, such as pigs and dogs that eat the turtle eggs; rising sand temperatures that can kill the eggs or prevent the production of male hatchlings; the danger of being caught by fisheries during migrations; and the harvesting of adults and eggs for food by islanders.
See original article at: cbs news article leatherback turtles
For more information, see University of Alabama research on leatherbacks