The World Turtle Day (23rd May) was very well celebrated in Mindelo, in a special event organized during the annual meeting of the Cape Verdean Sea Turtle Network, TAOLA.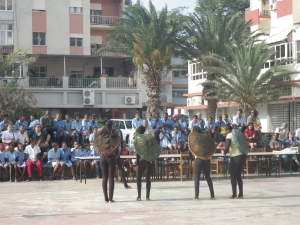 Schools, community and all the several organisations involved in sea turtle conservation in Cape Verde that were attending the TAOLA meeting celebrated together the World Turtle Day with music and artistic presentations at the main square in Mindelo.
The activities were promoted by TAOLA group, in partnership with the delegation of the Ministery of Education, Ponta D'Pom Association and Handcraft Association of Mindelo, and sponsored by CV Telecom.
Congratulations to the organizers of this very nice event and a big thank you to the sponsors.
*also thanks to the colleagues from Karumbé Project, Uruguay, for the inspirations for the turtle costumes! 🙂
(Originally posted/written by: Amanda Dutra)