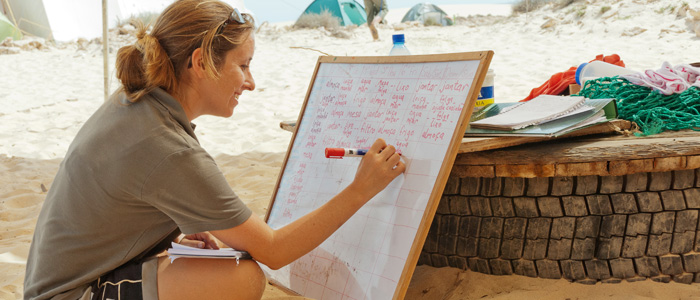 Job vacancies on Boavista
For our project for the conservation of Loggerhaed sea turtles (Caretta caretta) on the island Boavista, Cape Verde, we currently offer the following open positions:
Job applicants will be required to send a conclusive job application including a complete curriculum vitae to info@turtle-foundation.org. In case there is a detailled job description please stick to the advices you find there.
We are looking for ambitious individuals who will be responsible for the supervision of the sea turtle conservation work at one of our conservations camp sites. The duration of the job is from 1 June until 31 October 2018. Language skills in Portuguese and English are required. Previous expertise in turtle conservation is mandatory. Field coordinators will be working together with camp coordinators in teams of two and be responsible for managing all aspects of field work carried out on the beach, including scheduling patrols, census, and hatchery, data collection and data entry, training and supervising of rangers and volunteers, etc. The camp and field coordinator team will work under the supervision of the project managers. You will find a comprehensive job description and application details klicking this link:
Field Coordinator Job Description (PDF)
. Further information is provided in our
GENERAL INFORMATION
document (PDF).