We are proud to announce that in 2011 season, Turtle Foundation will support a community project aimed at the protection of the turtles nesting in the 3 Km long Varandinha beach, in south Boa Vista.
In late 2009, our team visited the beach of Varandinha, one of the prettiest in the island, to find more than 60 carcasses of slaughtered turtles (see prevous post on our website: https://www.turtle-foundation.org/NewsWeblog/tabid/70/EntryID/153/Default.aspx); it was obvious that this beach needed urgent protection. The community based project started in 2010 with the financial support of GEF – Small Grants Program, however funding didn't come through for 2011, meaning the beach would be left unprotected. When we heard these bad news, we immediately decided to fund the protection program there.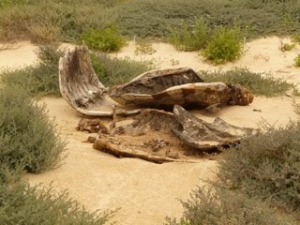 This initiative is unique in the island, in that protection is ensured by a group of 14 people from Povoação Velha, several of them were former poachers. The leader of this group, Eng. Henrique Cruz, is a well respected person in the island, and president of the Fishermen's Association of Boavista. About this partnership he said "we are thrilled about this support, and happy that we can continue this important work, to prevent the sea turtles to be slaughtered in this beach and ensure that the turtles are saved for future generations". He highlighted that future goals of this initiative will include development of ecotourism initiatives, and the creation of an environmental information centre.
Our team is very excited about this collaboration, and wishes this group a very successful season!