Tourism interns will work closely with the Tourism Manager and volunteers on the beach of Lacacao. Interns duties will be to inform the general public of the protection polices and management techniques of the Turtle Foundation.
Interns will also be expected to help with teaching locals how to run guided turtle tours in a sustainable and environmental friendly way. Ideally the interns applying for this position should be able to speak English and one other language; preference will be given to Portuguese, Spanish, Creole (Cape Verdean) or German speakers.
Successful candidates will gain valuable experience and insights into the Turtle Foundations sustainable approach to tourism. The accommodation will be at the camp of Lacacao and the cost for accommodation and food will be reduced from the normal volunteer fees to help with the longevity of their stay.
Two time periods are available:
1st group: from 15th June – 15th of August (1 place available)
2nd group: from 1st August – 15th of October (2 places available)
Interns are welcome to stay the whole season from 15th of June until 1st of November
(minimum 8 weeks).
Click here for the Application form
Contact:
volunteers@turtle-foundation.org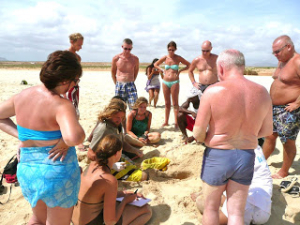 (Originally posted/written by: Amanda Dutra)