Program Boa Vista: General information and background
Five species of sea turtles roam the waters around the Islands of Cabo Verde: Green turtles (Chelonia mydas), Leatherback turtles (Dermochelys coriacea), Olive Ridley turtles (Lepidochelys olivacea), Hawksbill turtles (Eretmochelys imbricata), and Loggerhead turtles (Caretta caretta). Only the loggerhead turtle nests regularly on the islands. The local nesting population of loggerhead sea turtles is the third largest population in the world after the nesting populations of Oman and Southeast Florida, and is the largest nesting population in the Eastern Atlantic. It is estimated that around two thirds of the nesting activity on Cape Verde occurs on the Island of Boa Vista.
Although all species of sea turtles are officially protected under the laws of Cape Verde, they are heavily exposed to multiple anthropogenic threats. The primary threat is the slaughter of female loggerheads when they come ashore to nest The vulnerability of the turtles on land in combination with the easy accessibility of the nesting beaches, rapid increase of the local population since the early 2000s, and the lack of will and/or capability to enforce existing laws by the authorities further exacerbated the problem. The slaughter is particularly brutal and cruel, with turtles sliced open to remove meat and internal organs while still alive. This is usually done before the females even nest, thus killing all her progeny as well. Additional threats include the destruction of their nesting beaches by uncontrolled construction as part of rapid tourism development, nest poaching, trash accumulation in the water and on the beaches, targeted catch and by-catch of turtles at sea, and boat collisions. This situation has resulted in the United Nations Environment Program identifying Cape Verde as the conservation priority for loggerhead turtles (UNEP, 2002).
A special situation on Boa Vista is created by increasing tourism activities; according to official figures, over 1.6 million overnight stays were recorded on Boa Vista alone in 2016, representing more than 40% of all overnight stays of Cape Verde. Mass tourism is resulting in variety of additional problems for the sea turtles including nesting beach destruction by development projects, light pollution, motorized traffic on the beaches (quad bike tours), and poorly managed turtle watching activities.
Turtle Foundation started its conservation project on Boa Vista in 2008 after being informed in 2007 by a local NGO that about more than 1200 turtles were slaughtered on Boa Vista's beaches in that year, and after being asked for help in this desperate situation. In 2008, as a result of Turtle Foundation's patrols and protection, the number of animals killed on Porto Ferreira Beach alone was reduced from 600 in 2007 to 60 in 2008. In 2009, the total mortality on Boa Vista was estimated at 220 animals. By gradually including so far unprotected beaches, turtle mortality could be further reduced in the following years. On beaches protected by Turtle Foundation, between 2011 and 2017 5–21 turtle mortalities were recorded annually. However, these figures do not reflect the true extent of the situation, because they do not include major beaches monitored by other NGOs, remaining beaches not yet monitored at all, and only consider documented poaching incidents. Turtles taken unnoticed from the beaches and slaughtered elsewhere were not included. Further, general poaching activities started again to increase during the last few years.
Since the beginning of its beach patrolling activities on Boa Vista, Turtle Foundation took up increasing effort to accompanying programs to ensure sustainability of its conservation project. These programs include environmental education activities, programs to identify and to create alternative income possibilities, and advocating activities among the local government and other stakeholders. However, there is still a long way ahead of us until the loggerhead sea turtles can nest safely on Boa Vista's beaches and the depleted turtle population can recover.
Project location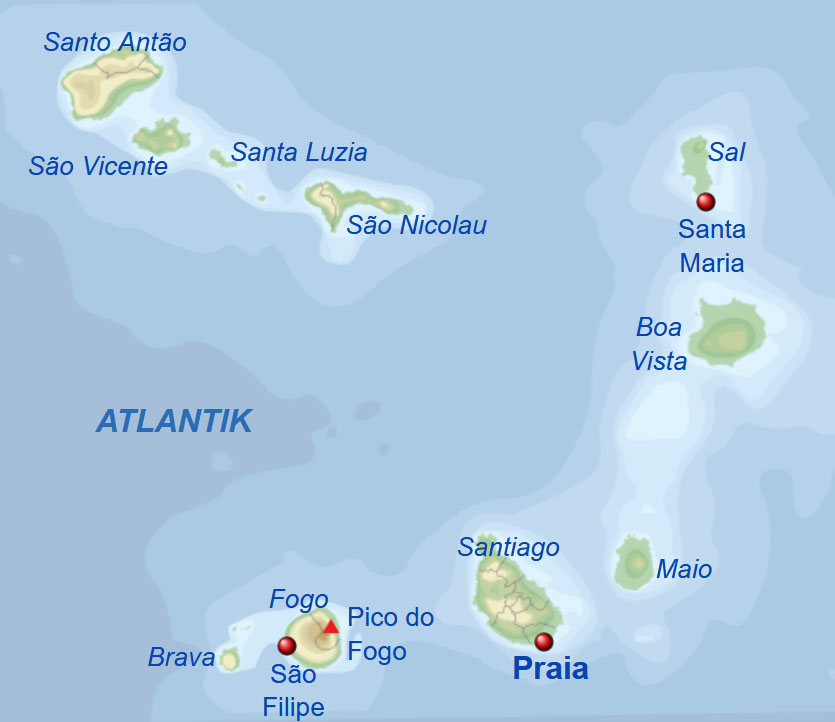 Overview
Species in focus: Loggerhead sea turtle

Location: Boa Vista, Cape Verde
Projects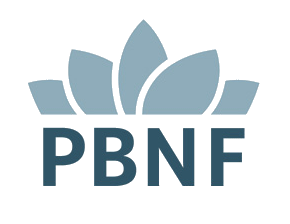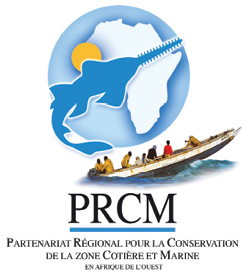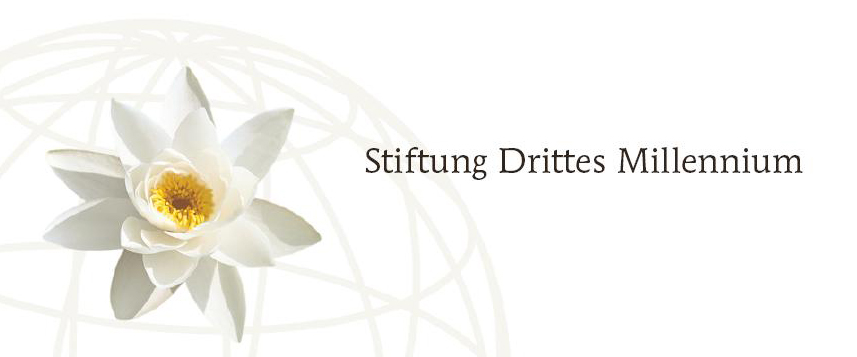 Conventional beach protection: Patrolling with rangers and volunteers
The monitoring and protection of the beaches is carried out by five temporary field stations on site. According to their location, these camps are called Boa Esperança Camp, Canto Camp, Cruz do Morto Camp, Lacacacão Camp and Curral Velho Camp). Each camp is run by a team of a camp coordinator and a field coordinator, except for the Cruz do Morto and Curral Velho camps, which had only one camp coordinator due to the small number of people present in these two camps. The camps are set up from mid to late May and are operational until the end of October.
Since 2009, we have been hiring national and international volunteers to assist the rangers with the beach patrol.
Currently, a total of about 30 km of nesting beaches are directly monitored by Turtle Foundation teams (community-based projects not included; see below) who have protected 9 loggerhead turtle nesting beaches or associated beach areas.
The beaches are patrolled throughout the night, from sunset to sunrise. Patrols are conducted in shifts (minimum 4 hours).
In addition, the Turtle Foundation supports and supervises the two community-based protection projects "Projeto Varandinha" and "Projeto Bofareira", which are run by the local organizations Associação Varandinha de Povoação Velha (AVPV; Association Varandinha in Povoação Velha) and Associação Onze Estrelas da Bofareira. The Projeto Varandinha protects beaches of a total length of about 8 km in the south and southwest of Boa Vista (Curralinho, a part of Santa Monica, and Varandinha, logistically divided into Varandinha I and Varandinha II), while the Projeto Bofareira patrols about 1 km of nesting beach in the north of the island (from Ponta Antónia to Ponta Altar).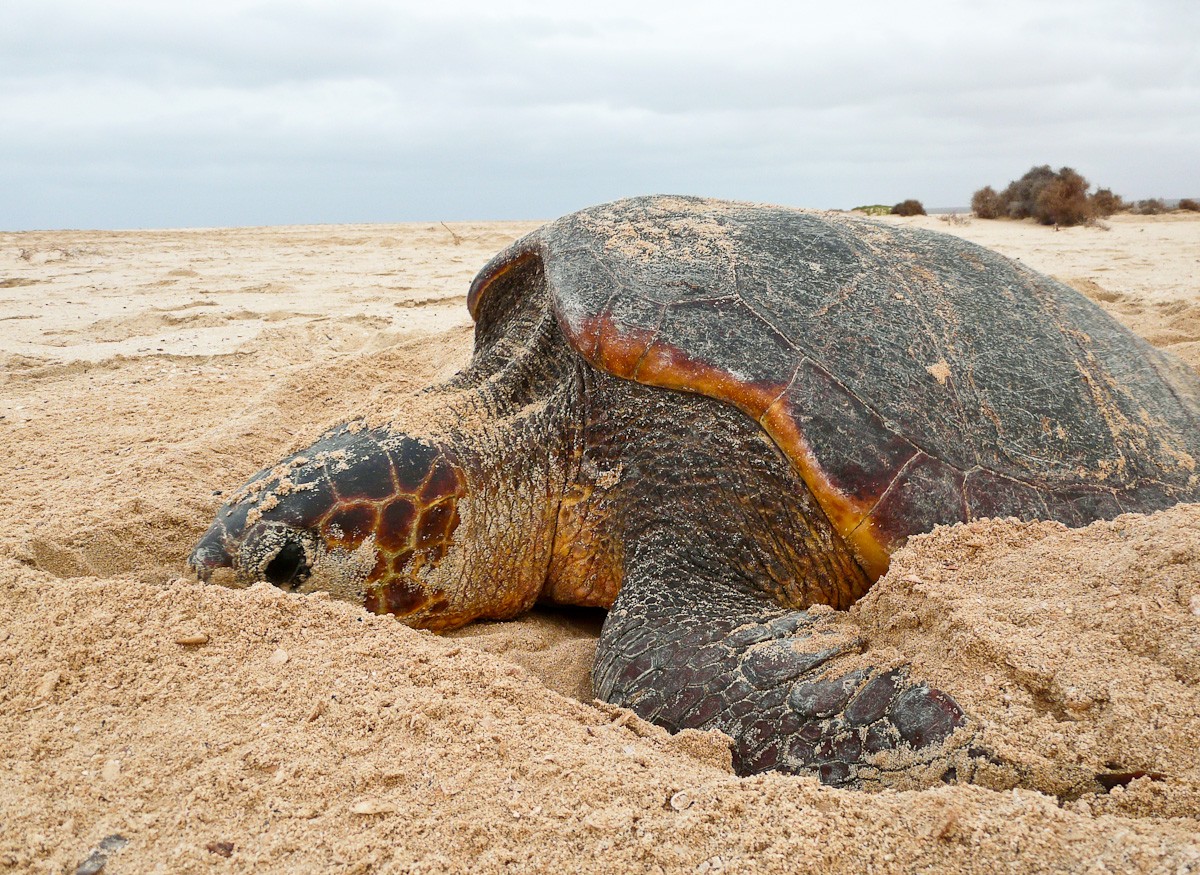 Nesting loggerhead turtle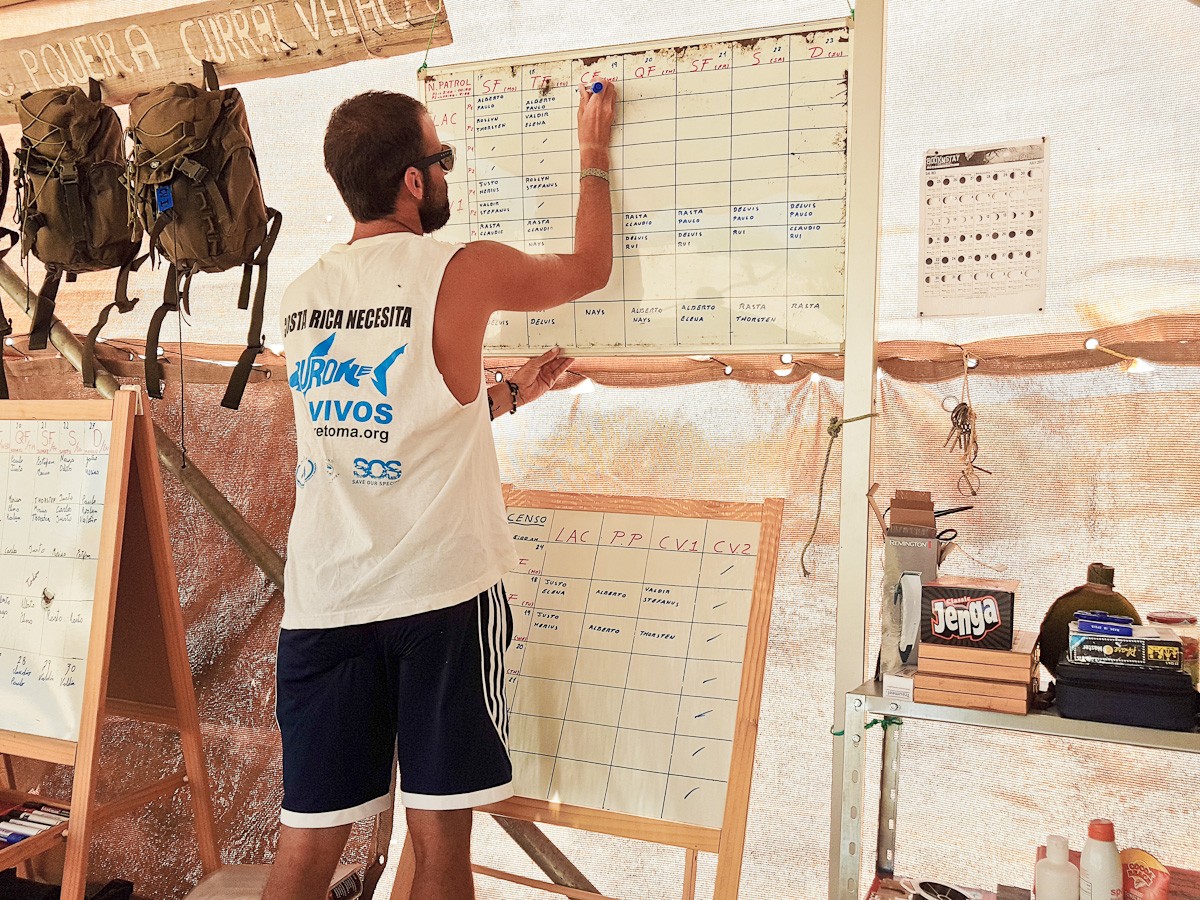 New methods of beach protection: Night vision drones, conservation dogs
Background
Conservative beach patrolling during the turtle nesting times is the first means in providing direct protection to sea turtles threatened by poaching activity. However, this method is expensive in terms of human, financial, and logistical resources, especially if dense monitoring is required. Further, if not supported by accompanying measures, reduction of monitoring efforts would inevitably lead to a rebound of poaching activities, which is especially a big danger if the measures are financed and carried out by NGOs rather than by governmental authorities. Therefore, there is a need for alternative but similarly effective measures that are cheaper, can contribute to significantly reduce efforts for conventional beach patrolling in the future, and which are more likely to be adopted by the local governments. Together with the local nature agencies and the police, Turtle Foundation created a surveillance task force for sea turtle protection with alternative techniques. This involves a new anti-poaching strategy aiming to overcome the so far prevention oriented method of keeping poachers away from the beaches just by the presence of patrols, to be replaced by a three step approach of detection, intervention, and prosecution of poaching activity. The surveillance task force is explicitly designed not only to protect the beaches that are conventionally patrolled by Turtle Foundation but all beaches of Boa Vista that suffer high risk of poaching activity, especially the beaches in the north and east of the island.
Night vision drones
The drone project team started its activity in August 2018 until end of the season and continued in the nesting season 2019. A professional drone (DJI Inspire 1 V2.0), a thermal night vision camera (Zenmuse XT 640) and supporting equipment was purchased. Operations were focused on around 30 km of high-risk beaches in the east and north of Boavista. About 70 night missions and about 400 single drone flights per nesting season were carried out. Initially, about half of the missions were accompanied by policemen who were ready to intervene and arrest perpetrators in case poaching activity was detected. However, in 2019 a strategy was added involving special ranger patrols in the field during drone operations, connected to the drone operators by radio. While no poachers were encountered or arrested during drone missions, the number of recorded poaching incidents dropped from 235 still in 2017 to 70 in 2018 and further to 19 in 2019. We attribute this to the combined effect of the new law increasing the local protection status of sea turtles and the publicly known, but unpredictable presence of the drone team on the beaches, accompanied by local police. The great efforts in awareness, educational and development programs in the communities and the increasing participation of local drivers in the turtle watching initiatives might have contributed as well. A short communication about the drone project was published by end of 2018 (Reischig et al., African Sea Turtle Newsletter 2018 10: 9–13; Download)
Conservation dogs
The conservation dog project began in the autumn of 2017 with the purchase of two Labrador puppies, a pair of siblings from a working line of this breed. We named the two dogs – a male and a female – in reference to the scientific names of the two species of turtles found mainly in Cape Verde: Karetta (Caretta caretta, the loggerhead turtle) and Kelo (Chelonia mydas, the green turtle). The Labrador siblings then received their basic training from renowned dog trainer Marlene Zähner in Switzerland. In 2018, two of our Cape Verdean rangers also attended dog handler training in Switzerland, and in June 2019, Karetta and Kelo came to Boa Vista. Dogs and handlers began their service and were initially trained to detect remains of poached turtles on beaches, which will later be expanded to detect turtle meat, for example, at airports, ports, and on boats. In addition, we recognized that poachers often leave items such as scraps of cloth and rope at the scene to which their scent adheres, and which the dogs could use to pick up and track their scent. Therefore, for 2020, we had planned to train this area of operation, known as mantrailing, as well. Unfortunately, due to the Corona pandemic and the associated travel restrictions, this was not possible. In the meantime, the dogs were used for area-wide detection of turtle carcasses from the previous season on the beaches and in their hinterlands to further narrow down the poaching hotspots and detect previously unknown poaching activities. We experienced another setback when Karetta suffered a complicated injury to her hind leg during a walk on the beach in the spring of 2020 and had to be brought back to Switzerland for further treatment. Unfortunately, Karetta is permanently impaired by this accident and can no longer be used as a working dog. She now lives with Marlene Zähner in Switzerland. Recently we were able to buy a young female dog on Boa Vista who shows good potential to become Karetta's successor. From 2021 we want to continue the conservation dog project with the German dog trainer Marcel Maierhofer and his team from Mantrailing24.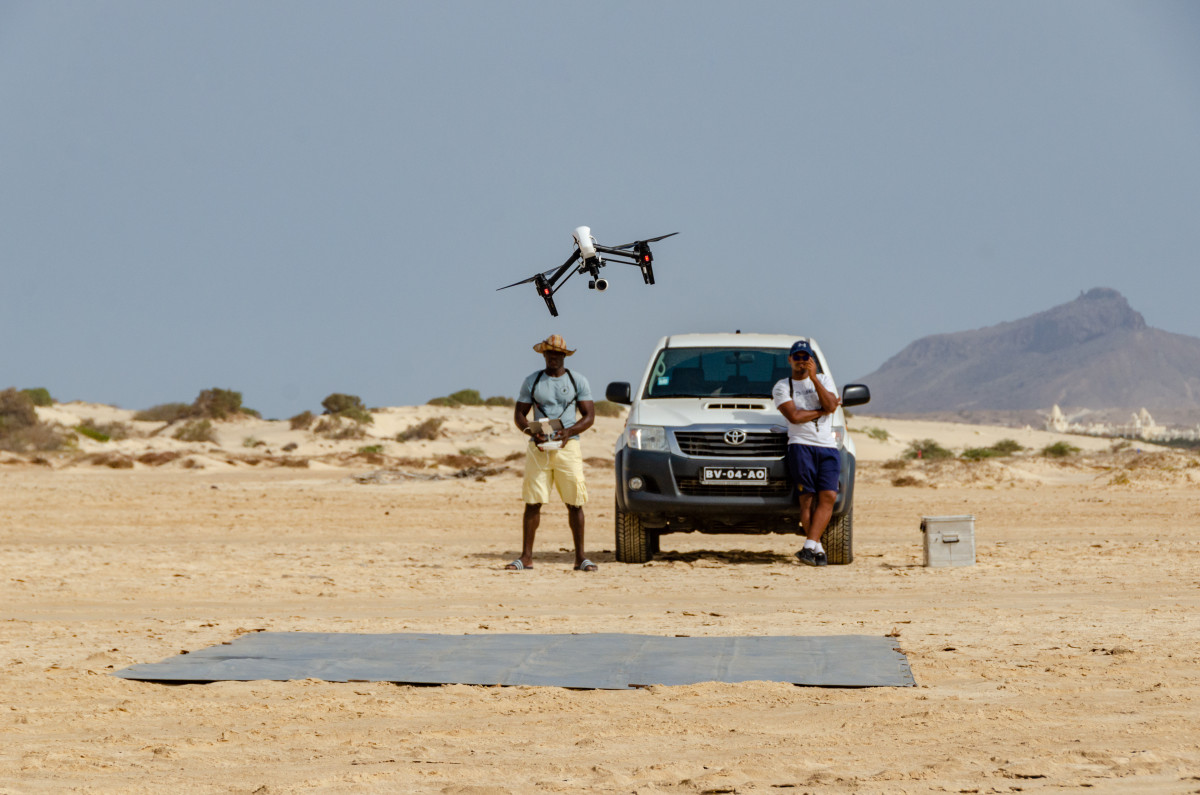 Night vision drone mission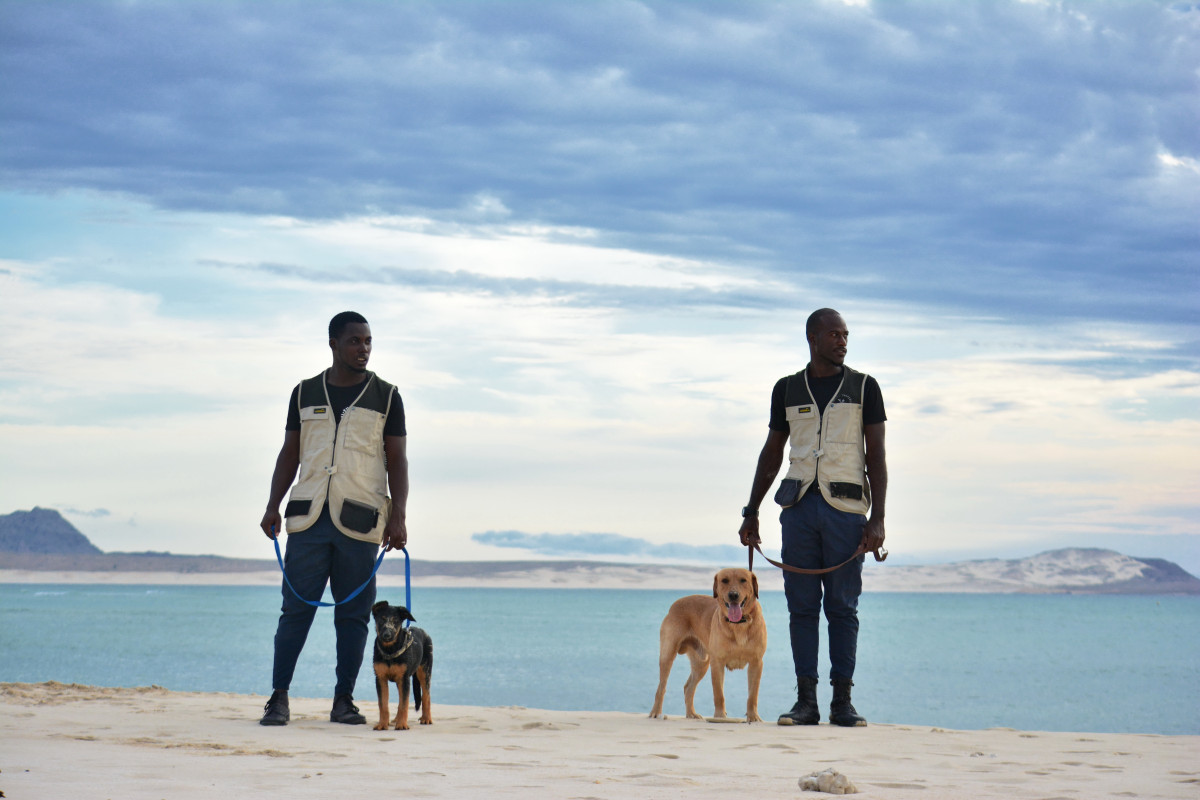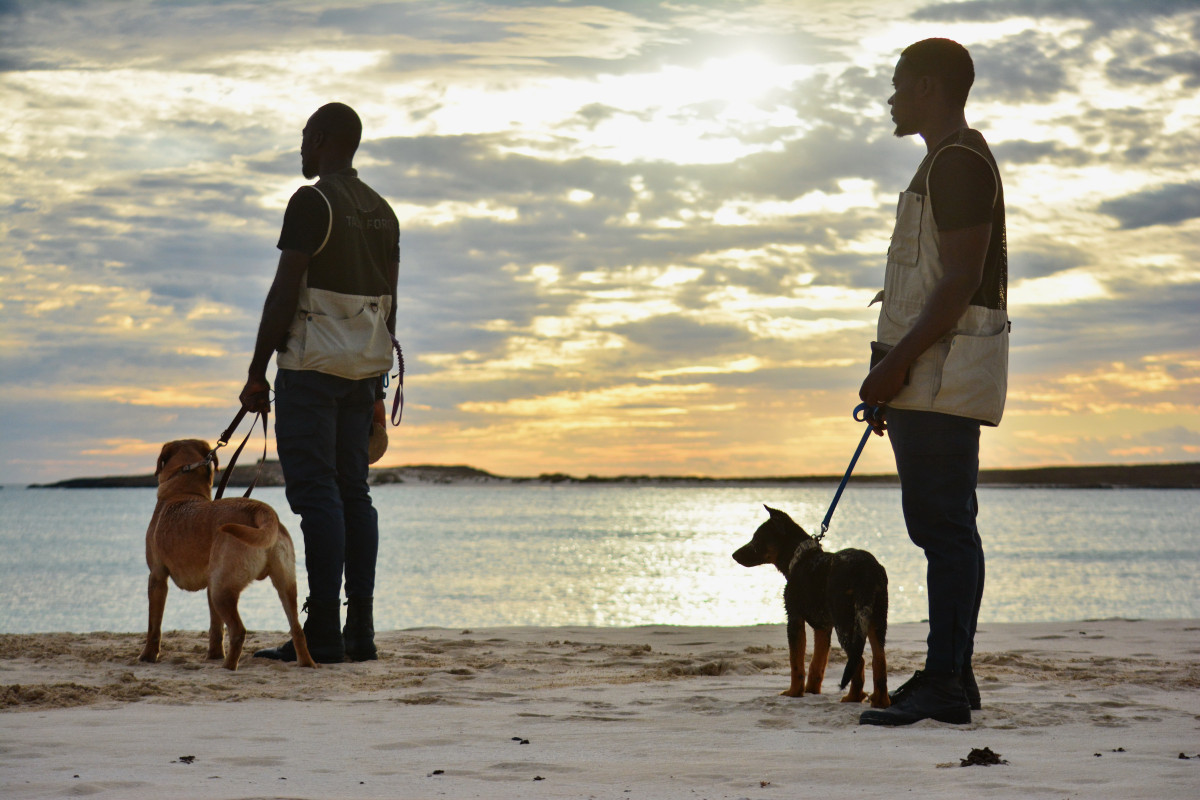 Conservation dogs & dog handlers




Background
Sustainable nature conservation does not stand alone, but can only take place in cooperation with the population, which is why we are particularly committed in this area. The pandemic did not leave our participatory development project on Boa Vista untouched, and we had to make some adjustments to our program. The income of many families on Boa Vista depends on tourism, and since the number of holidaymakers completely collapsed from spring 2020 onwards, many people suddenly found themselves without an income. While employees in the tourism sector can still fall back on reduced wage payments, self-employed small entrepreneurs such as taxi drivers or restaurant owners are dependent on marginal state support.
Projects
Together with our partner organisations, we participated in an online fundraising campaign to support particularly affected families. Furthermore, we were able to create a small counterbalance by employing 61 local rangers and camp staff. The women's cooperative TAMBRA in the village of João Galego, which we support, was also directly affected by the pandemic. Women are also part of the illegal trade in turtle meat, as it is usually the wives of the poachers who preserve and sell the meat. By providing guidance on how to produce and market preserved vegetable chutneys and natural soaps, we offer the women of TAMBRA a sustainable alternative to being involved in turtle poaching. Unfortunately, there were no tourists on Boa Vista this year, who are the most important target group for the handmade products.
A great success, however, was the completion of the construction work on the tourism centre in João Galego, financed by our donor MAVA, where the TAMBRA group will produce and sell their products
We supported another women's group in the small village of Cabeçã dos Tarafes in running a sewing course. The group was immediately able to implement the first orders for the production of fabric masks. For the future, it is planned to set up a sewing workshop here, where, for example, school uniforms and work clothes will be made.
In addition, we conducted a large-scale beach cleanup campaign in cooperation with village organisations to collect washed-up rubbish from nesting beaches. In this context, we also supported a pilot project to produce simple items from recycled plastic, which was implemented by a youth group. In the coming years, the production technique and the product range are to be expanded in order to achieve marketing here as well.
Another important target group of our social engagement for the protection of sea turtles are the fishermen of Boa Vista. There are about 70 fishing boats operating in the offshore waters. So far, little is known about the extent to which the hunting of turtles in the sea contributes to the decimation of the species. In order to involve fishermen in our project work, we started a cooperation with initially six fishermen who help us with data collection in the sea and with the tagging of turtles. In return, they received safety equipment for their boats and work clothes with individual motifs of sea creatures such as octopuses, whales and, of course, turtles.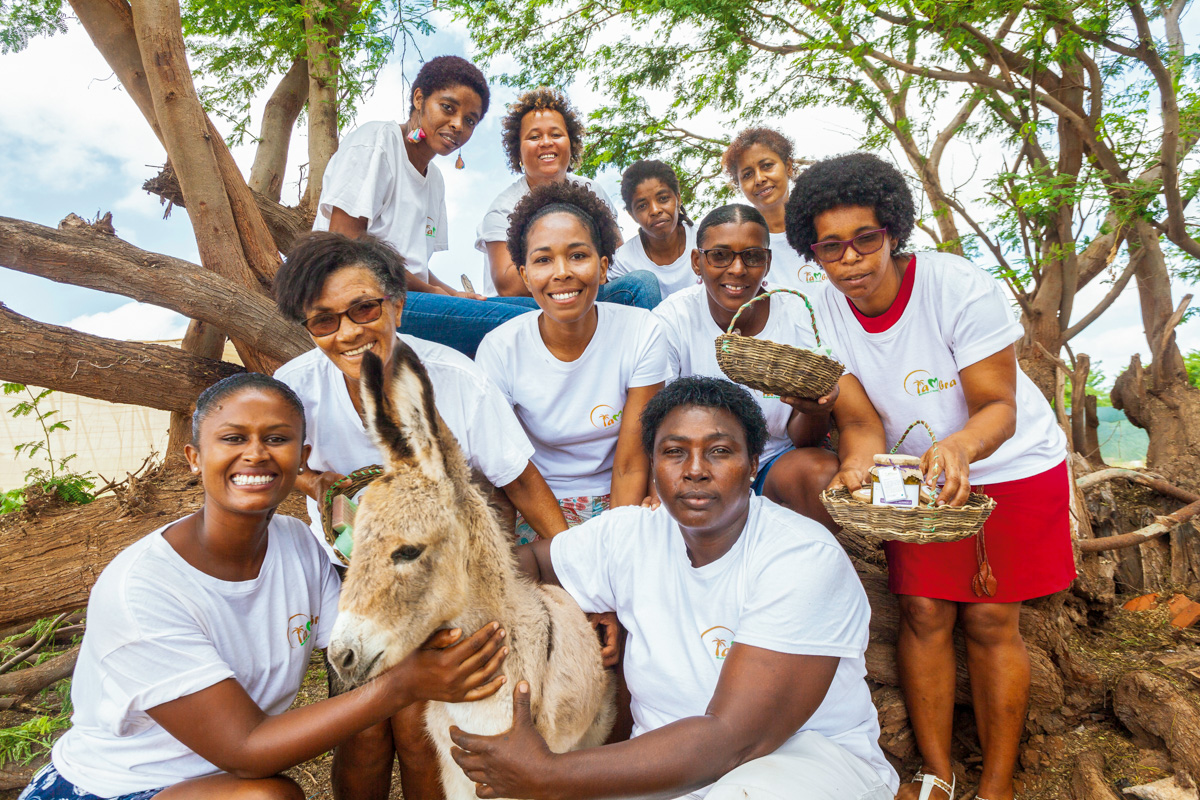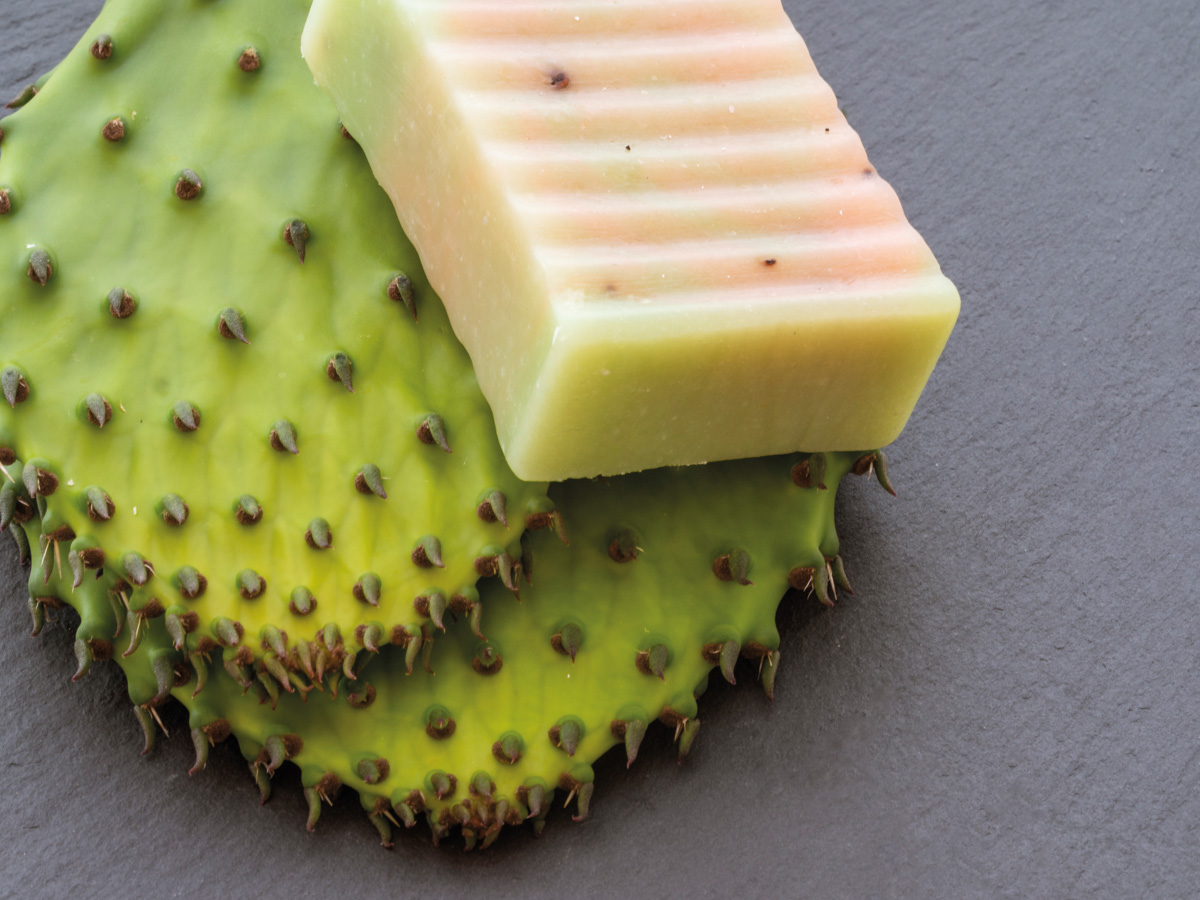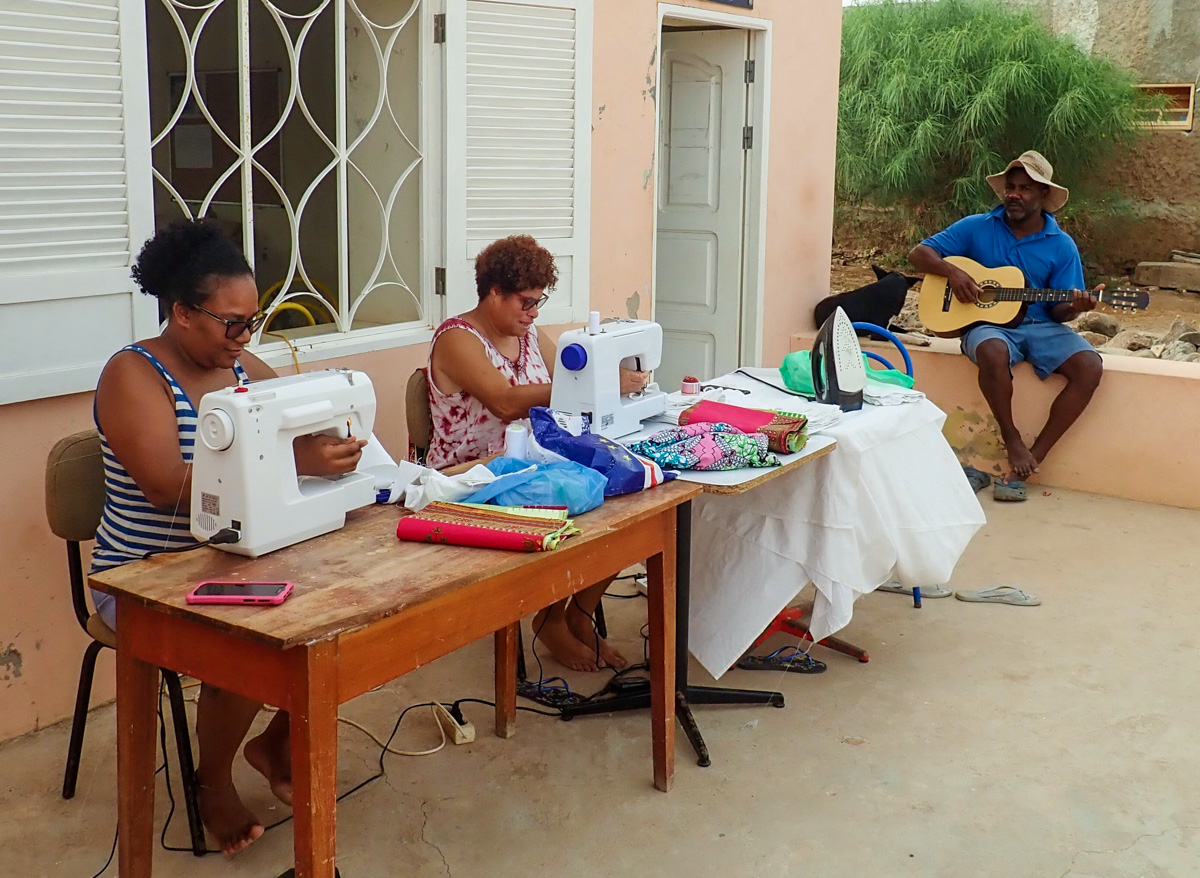 Sewing group in Cabeçã dos Tarafes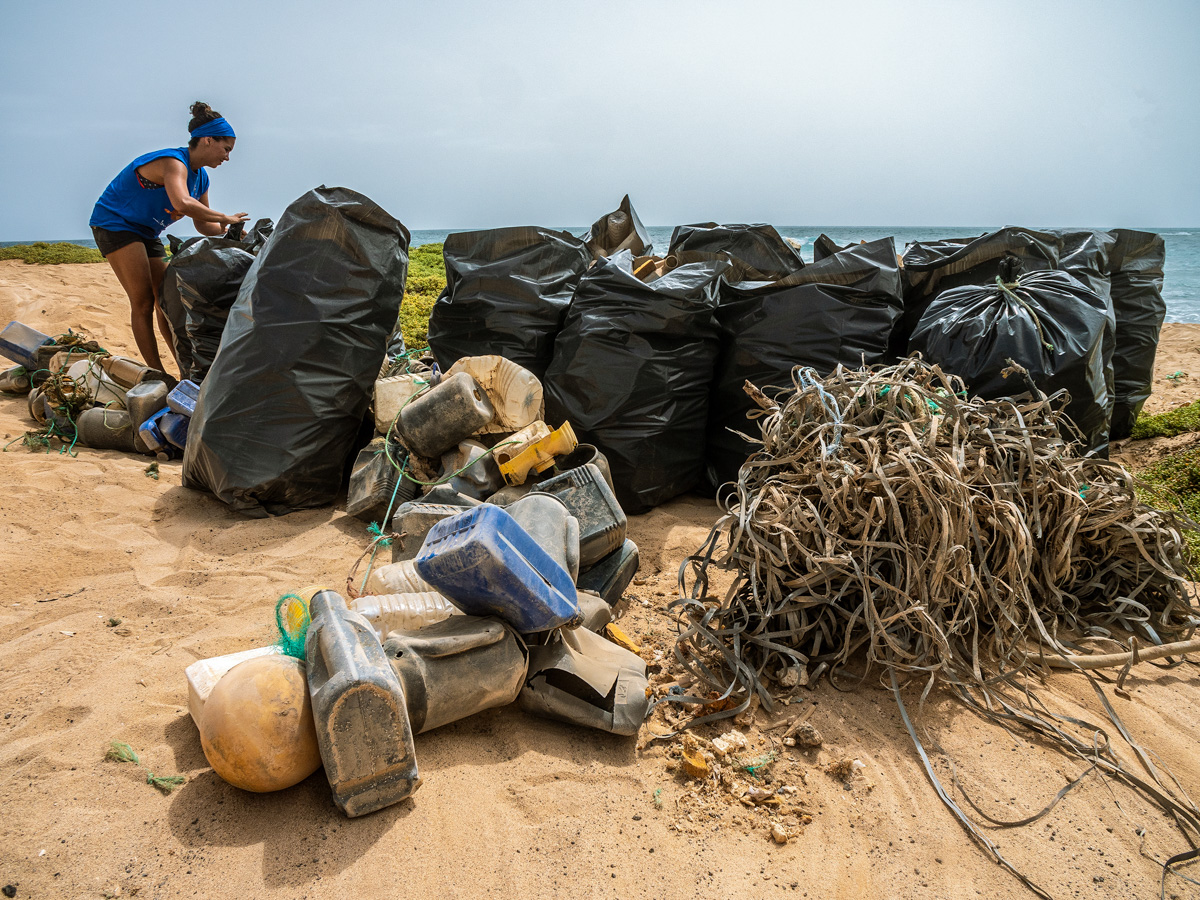 A stretch of beach is cleared of plastic waste