Program Boa Vista: General information and background
Five species of sea turtles roam the waters around the Islands of Cabo Verde: Green turtles (Chelonia mydas), Leatherback turtles (Dermochelys coriacea), Olive Ridley turtles (Lepidochelys olivacea), Hawksbill turtles (Eretmochelys imbricata), and Loggerhead turtles (Caretta caretta). Only the loggerhead turtle nests regularly on the islands. The local nesting population of loggerhead sea turtles is the third largest population in the world after the nesting populations of Oman and Southeast Florida, and is the largest nesting population in the Eastern Atlantic. It is estimated that around two thirds of the nesting activity on Cape Verde occurs on the Island of Boa Vista.
Although all species of sea turtles are officially protected under the laws of Cape Verde, they are heavily exposed to multiple anthropogenic threats. The primary threat is the slaughter of female loggerheads when they come ashore to nest The vulnerability of the turtles on land in combination with the easy accessibility of the nesting beaches, rapid increase of the local population since the early 2000s, and the lack of will and/or capability to enforce existing laws by the authorities further exacerbated the problem. The slaughter is particularly brutal and cruel, with turtles sliced open to remove meat and internal organs while still alive. This is usually done before the females even nest, thus killing all her progeny as well. Additional threats include the destruction of their nesting beaches by uncontrolled construction as part of rapid tourism development, nest poaching, trash accumulation in the water and on the beaches, targeted catch and by-catch of turtles at sea, and boat collisions. This situation has resulted in the United Nations Environment Program identifying Cape Verde as the conservation priority for loggerhead turtles (UNEP, 2002).
A special situation on Boa Vista is created by increasing tourism activities; according to official figures, over 1.6 million overnight stays were recorded on Boa Vista alone in 2016, representing more than 40% of all overnight stays of Cape Verde. Mass tourism is resulting in variety of additional problems for the sea turtles including nesting beach destruction by development projects, light pollution, motorized traffic on the beaches (quad bike tours), and poorly managed turtle watching activities.
Turtle Foundation started its conservation project on Boa Vista in 2008 after being informed in 2007 by a local NGO that about more than 1200 turtles were slaughtered on Boa Vista's beaches in that year, and after being asked for help in this desperate situation. In 2008, as a result of Turtle Foundation's patrols and protection, the number of animals killed on Porto Ferreira Beach alone was reduced from 600 in 2007 to 60 in 2008. In 2009, the total mortality on Boa Vista was estimated at 220 animals. By gradually including so far unprotected beaches, turtle mortality could be further reduced in the following years. On beaches protected by Turtle Foundation, between 2011 and 2017 5–21 turtle mortalities were recorded annually. However, these figures do not reflect the true extent of the situation, because they do not include major beaches monitored by other NGOs, remaining beaches not yet monitored at all, and only consider documented poaching incidents. Turtles taken unnoticed from the beaches and slaughtered elsewhere were not included. Further, general poaching activities started again to increase during the last few years.
Since the beginning of its beach patrolling activities on Boa Vista, Turtle Foundation took up increasing effort to accompanying programs to ensure sustainability of its conservation project. These programs include environmental education activities, programs to identify and to create alternative income possibilities, and advocating activities among the local government and other stakeholders. However, there is still a long way ahead of us until the loggerhead sea turtles can nest safely on Boa Vista's beaches and the depleted turtle population can recover.
Current numbers:
Project location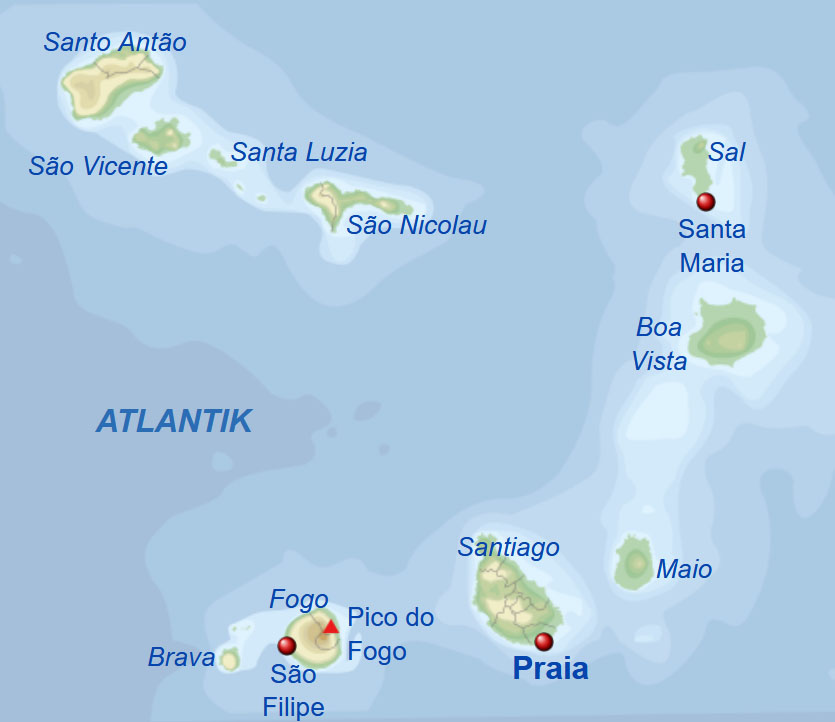 Overview
Species in focus: Loggerhead sea turtle

Location: Boa Vista, Cape Verde
Projects
Conventional beach protection: Patrolling with rangers and volunteers
The monitoring and protection of the beaches is carried out by five temporary field stations on site. According to their location, these camps are called Boa Esperança Camp, Canto Camp, Cruz do Morto Camp, Lacacão Camp and Curral Velho Camp). Each camp is run by a team of a camp coordinator and a field coordinator, except for the Cruz do Morto and Curral Velho camps, which had only one camp coordinator due to the small number of people present in these two camps. The camps are set up from mid to late May and are operational until the end of October.
Since 2009, we have been hiring national and international volunteers to assist the rangers with the beach patrol.
Currently, a total of about 30 km of nesting beaches are directly monitored by Turtle Foundation teams (community-based projects not included; see below) who have protected 9 loggerhead turtle nesting beaches or associated beach areas.
The beaches are patrolled throughout the night, from sunset to sunrise. Patrols are conducted in shifts (minimum 4 hours).
In addition, the Turtle Foundation supports and supervises the two community-based protection projects "Projeto Varandinha" and "Projeto Bofareira", which are run by the local organizations Associação Varandinha de Povoação Velha (AVPV; Association Varandinha in Povoação Velha) and Associação Onze Estrelas da Bofareira. The Projeto Varandinha protects beaches of a total length of about 8 km in the south and southwest of Boa Vista (Curralinho, a part of Santa Monica, and Varandinha, logistically divided into Varandinha I and Varandinha II), while the Projeto Bofareira patrols about 1 km of nesting beach in the north of the island (from Ponta Antónia to Ponta Altar).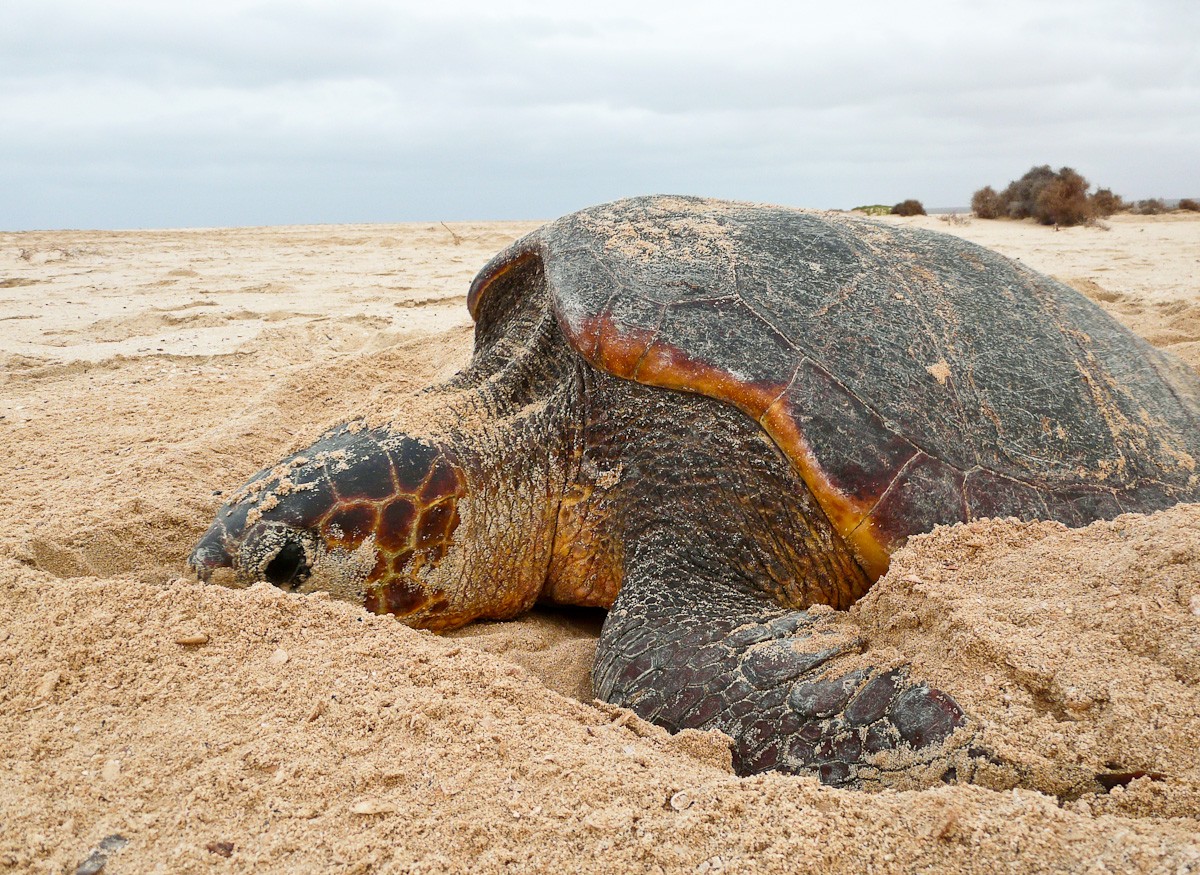 Nesting loggerhead turtle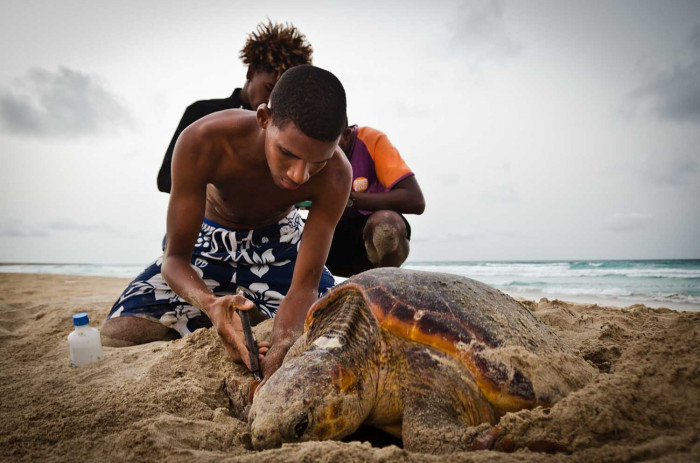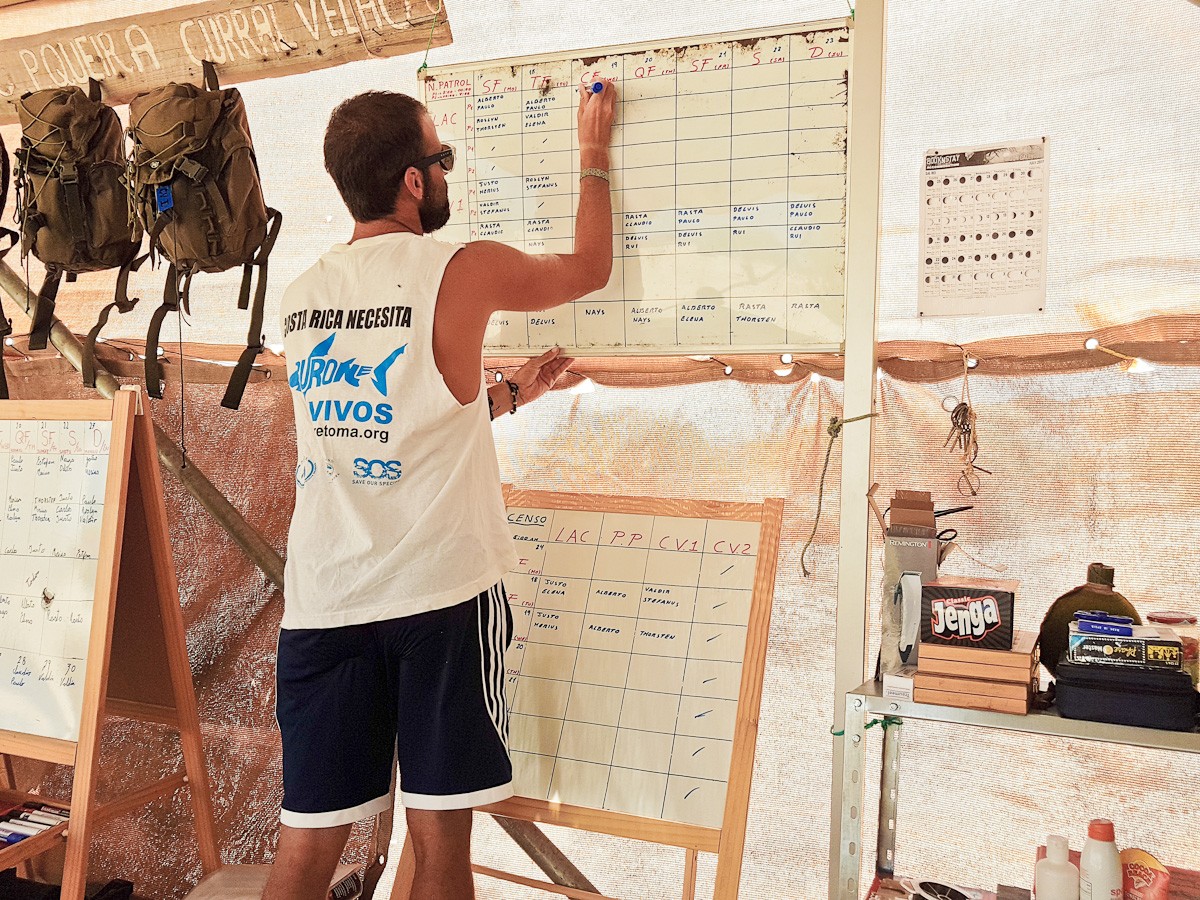 Tracking down poachers with drones and dogs
Background
Cabo Verde is home to an endangered population of loggerhead turtles (Caretta caretta). The sea turtles are still being killed for their meat.
In order to further reduce poaching, a project was launched in 2018 to develop and implement alternative conservation methods on the island of Boa Vista. In close cooperation with the local nature conservation authority and the police we and our local implementing partner Fundação Tartaruga provide extensive professional, financial, human, logistical and technical assistance to support the authorities' law enforcement efforts against sea turtle poaching.
The project includes the use of protection dogs and modern night vision technology (drones and binoculars with thermal imaging technology) and their professional application within the framework of coordinated operational concepts and strategies. The aim is to deter poachers and – if this is of no help – to support prosecution by the authorities.
Special features and opportunities of the team
Dogs have a highly developed sense of smell that enables them to locate hidden objects and follow traces of odorous objects. Thanks to their excellent ability to perceive acoustic and olfactory impressions, they are the ideal complement to humans in detecting difficult-to-see situations despite the darkness. Because of this profile, conservation dogs can provide valuable services in tracking and tracing poachers, for example. Dogs are also increasingly used for research, surveillance and protection purposes on sea turtle nesting beaches.
The training of the dog handlers and the conservation dogs is done by an expert dog trainer from Germany. The dog trainer spends several weeks per year on the project site and furthermore accompanies the team with online trainings.
The dogs' most important task is to search larger areas during beach patrols in order to detect unauthorised people. Furthermore, they are specially trained to detect turtle meat and are able to find it in travellers' luggages at ports and airports, as well as in domestic settings such as houses or cars. The dogs are also trained in mantrailing. This means that they are able to follow poachers who have left objects such as clothing, knives or ropes at the crime scene to which their scent adheres. This supports the local law enforcement authorities to track down and prosecute poachers.
Highly efficient method to reduce poaching
With the combination of conservation dogs and drone technology, we developed a new operational strategy to prevent poaching. This improved the efficiency of patrols as well as reduced dense and expensive beach patrols. The dog and drone team is now patrolling 66 beach kilometres in 5 protected areas on Boa Vista island.
Successes worth mentioning
In the first year of project initiation, the rate of recorded killed turtles decreased by nearly 90 % from 4.5 % to 0.5 %. The rate continued to decline and was 0.3 % in the 2022 nesting season. Further, three poachers were arrested by the police as a result of the Dog & Drone Team's activity. Various aspects may be involved in the significant reduction of poaching in recent years, such as a legal tightening of penalties for poaching and expansion community programs by NGOs. However, we have learned from direct sources such as the testimony of former poachers that the significantly increased risk of being caught regularly deterred potential offenders from their intentions.
Constant development since the implementation
While many of the project's approaches were experimental and new to sea turtle conservation, strategies and operations have improved significantly in the past five years. Good relations and trustful cooperation with the local authorities were further deepened and the team members with their different competences welded together to form an experienced and effective anti sea turtle poaching unit.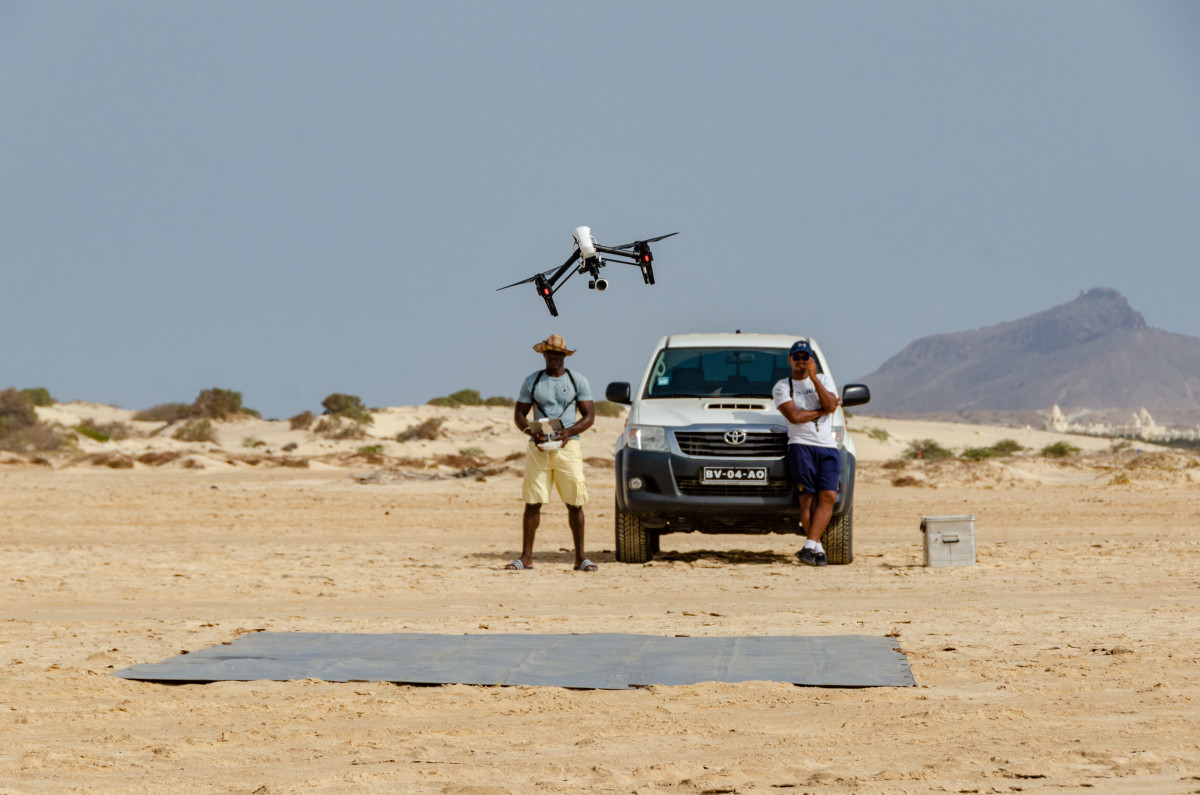 Flight training with the night vision drone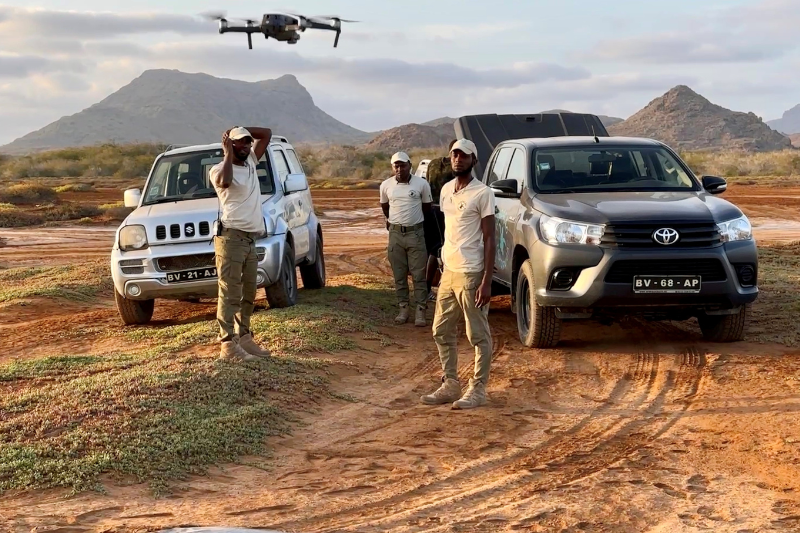 Daytime training with the night vision drone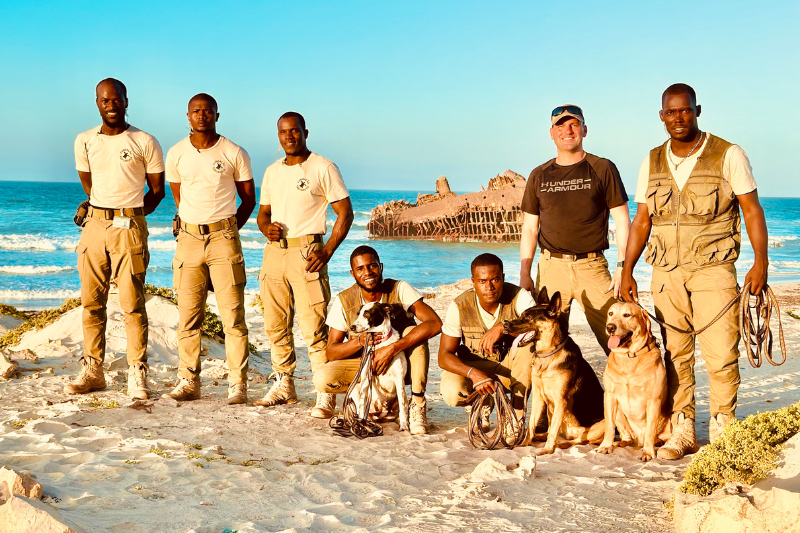 Dog and Drone Team with all three conservation dogs and their dog trainer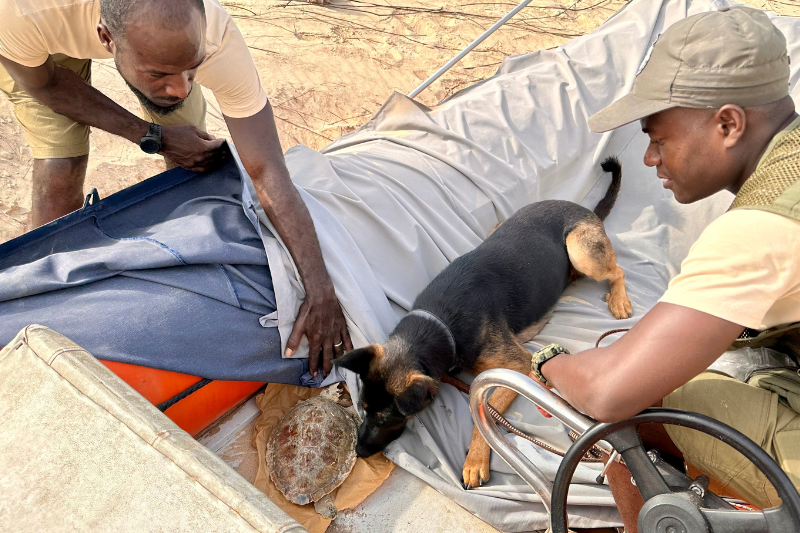 Conservation dog Karetta training her nose in tracking sea turtles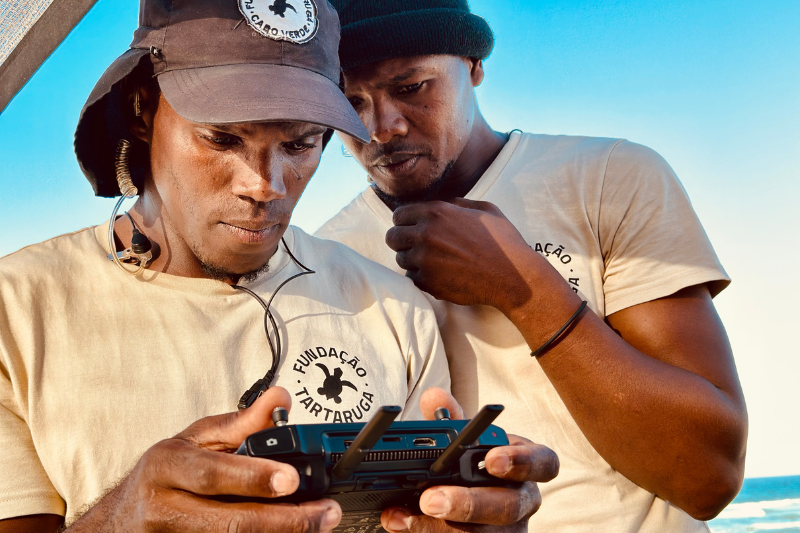 Members of the Dog and Drone Team operating the drone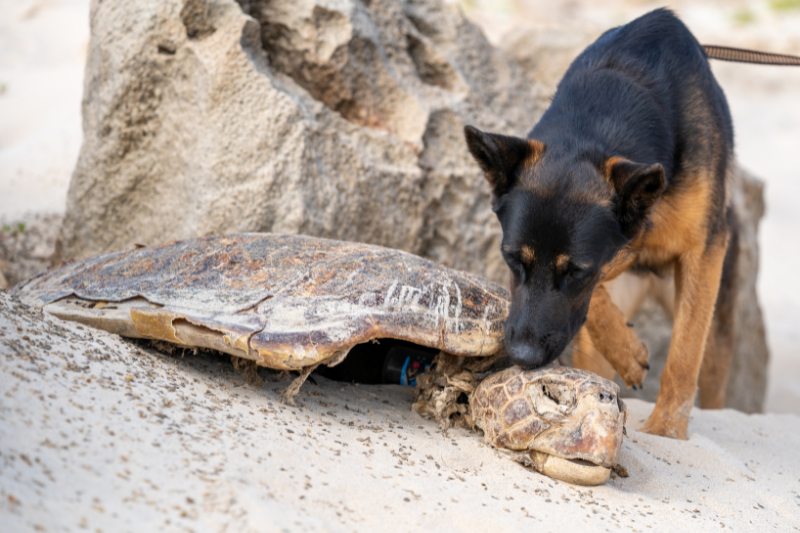 Conservation dog Karetta detecting a dead sea turtle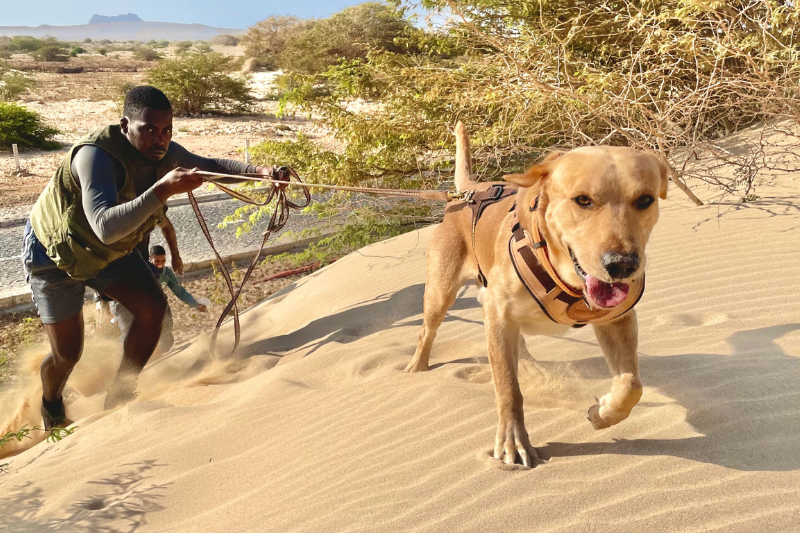 Conservation dog Kelo at work on Boa Vista
Sea turtle conservation at sea
Background
The drastic curbing of the formerly massive poaching of sea turtles on Boa Vista's beaches during the last almost one and a half decades is a conservation success story in Cape Verde. However, sea turtles are not only hunted on the beaches – they are not safe in the sea either. On the one hand, they fall victim to industrial fishing in large numbers as unintentional bycatch. But also the local, artisanal fishing takes its toll, because traditionally sea turtles are not spurned there and therefore, in contrast to industrial fishing, are hunted specifically. It can even be assumed that this problem is currently increasing, precisely because the protection of turtles on the beaches is so successful. As a result, it is now increasingly worthwhile to meet the remaining demand for turtle meat by hunting at sea, which is much more difficult than on the beaches. However, since fishermen at sea are currently not controlled, it is difficult to estimate the true extent of poaching at sea so far. However, we must assume that this is a significant threat to stocks. Since 2018, we have been working closely with the marine conservation organization MarAlliance to address this issue as well. To this end, we are currently pursuing two main approaches:
Exploring the nearshore mating grounds and migratory pathways of the loggerhead sea turtle off Boa Vista
In order to be able to successfully protect the turtles at sea, it is of course important to know where they mainly occur there. The nearshore mating areas are of particular interest. This is where male and female turtles meet in high density in a relatively confined space for a limited period of time, after having migrated there for a long time from the sometimes very distant feeding grounds where they spend most of their lives.
At these places the mating of the turtles takes place a few weeks before the egg-laying until the actual nesting season. Not only do many animals then move in a confined space, but unfortunately in the hormonal rush they also lose their typical alertness and readiness to flee, and they can therefore be particularly easily preyed upon. We therefore need to know and map the mating grounds as precisely as possible in order to know where to protect the turtles. The focus of protection measures such as sea patrols can be narrowed down even further in light of the fact that not all of the mating grounds are regularly used by fishermen, but only those areas where they find their actual target species. In the vastness of Boa Vista's coastal waters, these areas of overlap between the turtles' mating grounds and the main activity of artisanal fishing can then be targeted and effectively protected.
An initial approach to mating range research was undertaken by Alexander "Zeddy" Seymour of MarAlliance in 2018. The study used underwater video as well as systematic observations at the water surface on previously defined transects to record the abundance of turtles in the monitoring area. Furthermore, fishermen were interviewed about their observations and the location, type, and duration of their activity. The results provided a preliminary assessment on the use of coastal areas off nesting beaches, including the overlap of loggerhead sea turtle mating areas with artisanal fisheries. A 2018 interim report on the project strongly recommended that local fishermen be better involved in sea turtle conservation. Unfortunately, the project was temporarily interrupted by the tragic death of Zeddy Seymour in the summer of 2019 and the onset of the Corona pandemic in 2020, but was then able to continue with adjustments to the new situation beginning with the 2020 nesting season.
A popular target of poaching at sea are male turtles. Their penis is traded expensively as a supposed aphrodisiac. Since the males, unlike the females, never leave the water, they can only be caught there. The male sea turtles are clearly outnumbered by the females and due to the special breeding biology it is to be feared that with the climate warming the sex ratio will develop further to the disadvantage of the males, until finally too few males are present to be able to fertilize all females successfully. Therefore, the targeted killing of males poses a serious threat to the population. Another project therefore involves researching the whereabouts and migration routes of male turtles using satellite transmitters. A first turtle was still transmitted by Zeddy Seymour in June 2019, and we were able to monitor its migration routes into January 2020. Three more turtles were tagged in 2020 with the help of MarAlliance staff. All three animals continue to provide valuable data into the present (as of May 2021)! Two animals, like the animal tagged in 2019, move over a wide area in the open oceanic waters between Boa Vista and the west coast of mainland Africa. Of particular interest, however, is the behavior of one male that not only has not left the waters around Boa Vista, even after almost a year now, but has barely moved more than a few kilometers from where it was captured since then. We are already very excited about the evaluation of the results!
Increased cooperation with the fishermen of Boa Vista as part of our social engagement
Partnerships with local fishermen can provide a practical way to better interact with fishermen overall and encourage greater participation by fishermen in sea turtle conservation and research. There are approximately 70 fishing boats on Boa Vista that operate in the nearshore waters. In order to involve the fishermen in our project work, we started a cooperation with initially six fishermen who help us with data collection in the sea and with the tagging of turtles. In return, they received safety equipment for their boats and work clothes with individual motifs of sea creatures such as octopuses, whales and, of course, turtles. With this first step, we very much hope to pave a way for trustful cooperation with the local fishermen, which will benefit both the fishermen and the sea turtles.
However, another very big problem for turtles is industrial fishing on the high seas, to which thousands of turtles probably fall victim each year; we have referred to this before in a post (link). We are currently in discussion with a working group to reduce bycatch of seabirds and sea turtles off the coast of West Africa, involving MAVA, BirdLife International, and other international and resident organizations.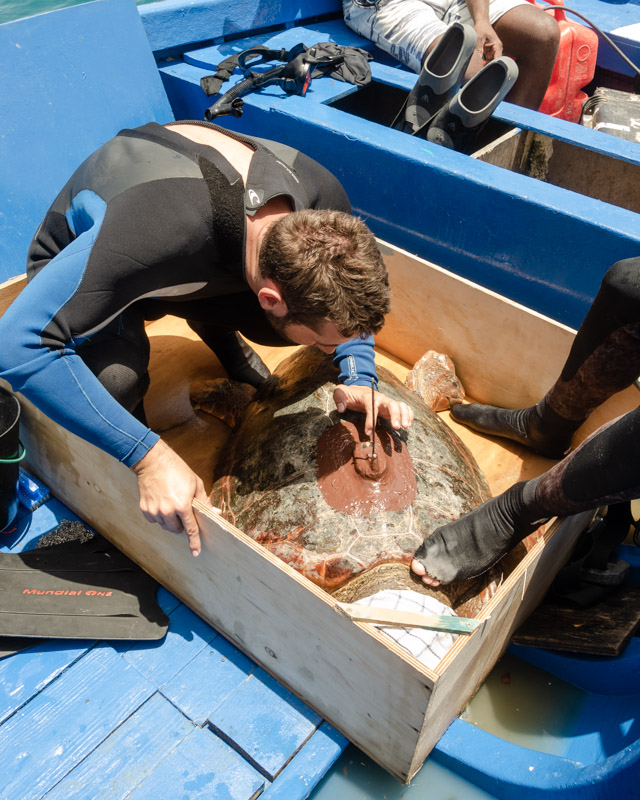 The first male turtle caught in the sea in 2019 and fitted with a satellite transmitter. It was named "João" and provided valuable data for half a year.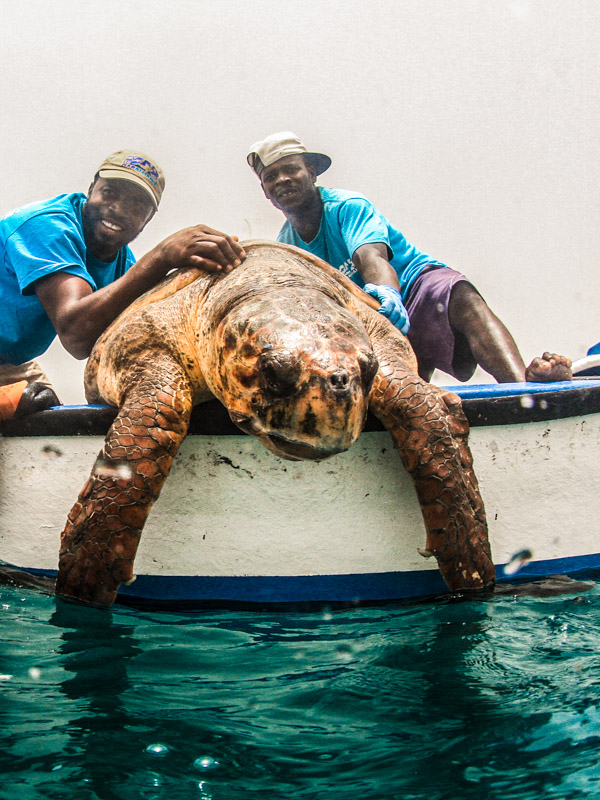 Release of a freshly satellite-tagged male turtle in May 2020. (Photo: MarAlliance).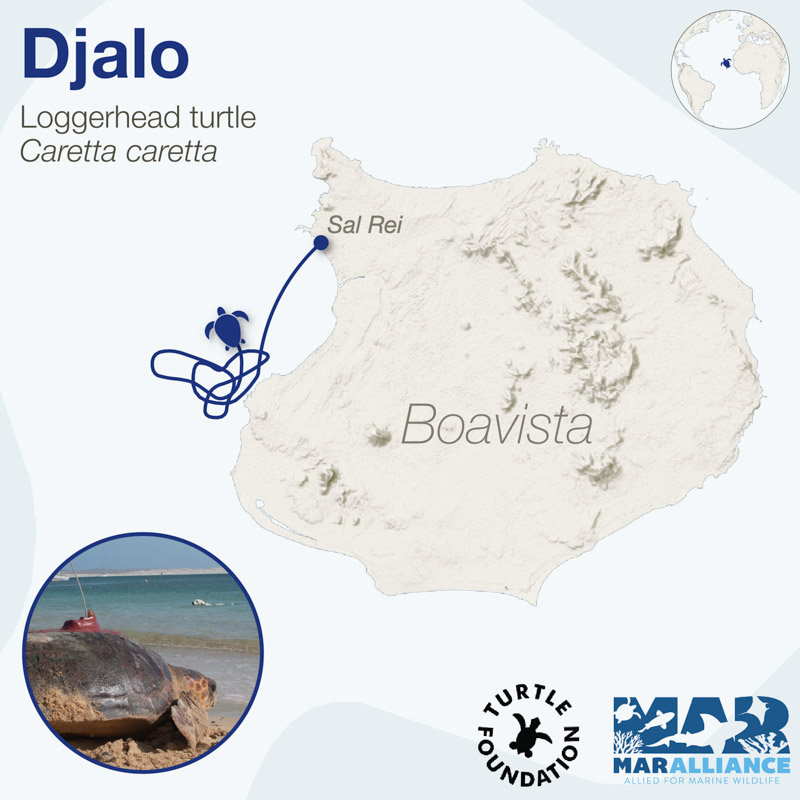 Migratory path of the turtle "Djalo" in the first days after the transmitter in May 2020. (Map: MarAlliance)
Male loggerhead turtle in the coastal waters of Boa Vista. Males are easily identified by their long tails. (Photo: Zeddy Seymour, MarAlliance)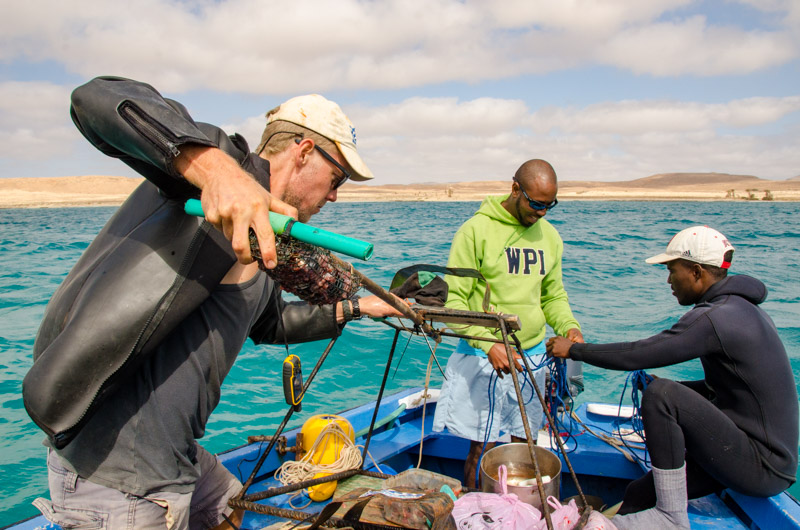 An iron frame is equipped with an underwater camera and bait by Zeddy Seymour and then placed on the seabed by a diver (technical term: Baited Remote Underwater Video, BRUV). The camera will film all the animals that eat from the bait in the following hours.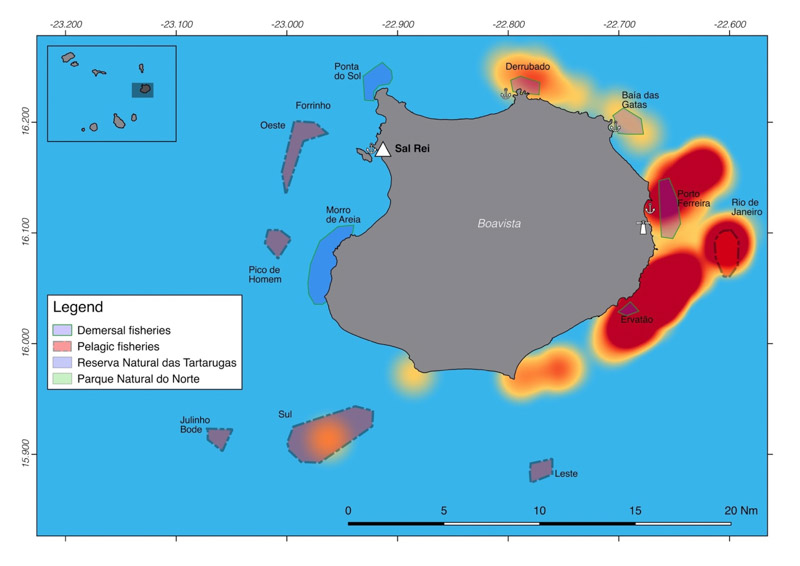 The map shows color-coded focal points of turtle sightings off nesting beaches in eastern Boa Vista along with marine areas used by fishermen. (Map: Zeddy Seymour, MarAlliance)
Community projects
Background
Sustainable nature conservation does not stand alone, but can only take place in cooperation with the population. For this reason, it has always been of great concern to us as the Turtle Foundation to also pay special attention to the participatory aspect of our work. In cooperation with two other NGOs for the protection of sea turtles on Boa Vista, we have joined forces under the name of Projeto Tartaruga.
On the way to finding sustainable ways to end the illegal hunting of nesting female turtles, it was important to initiate projects for the locals that would provide them with an independent income and raise their overall awareness of the issue.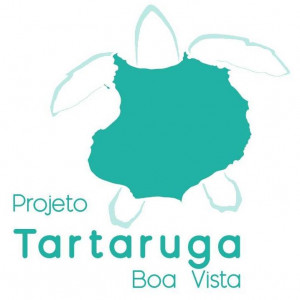 Projects
Free swimming courses
In a survey on the island of Cape Verde, we found that only about 14% of children and young people can swim well enough to be safe in the sea. This alarming result made it clear to us that they often lacked the positive connection to the sea that would enable them to work for its protection. Our ambition to change this situation was born.
After training swimming instructors, we introduced a free childrens' swimming course on Boa Vista, which will be continued in 2023 after two successful years. So far, we have been able to award almost 200 children with swimming badges for completed courses, our memory game GANDA and certificates.
In addition to classic lessons in swimming and snorkelling, the courses also include playful elements of marine environmental education. The swimming training itself is divided into two course units of three months each.
Atelier Tarafes
Sewing for self-determined, independent sources of income: We supported a women's group in the village of Cabeça dos Tarafes with sewing courses and appropriate technical equipment. This made it possible for the women of Atelier Tarafes to accept orders from the local population, making them independent of tourism. In the past, school uniforms, work clothes and breathing masks have been made for public clients such as institutions or the local government. We have also financed another course by a professional ladies' tailor for the now successful sewing studio. With this support, orders for wedding or evening wear can now also be accepted.
Women's cooperative TAMBRA
In the village of João Galego, we started a women's cooperative called TAMBRA a few years ago. The background is that women are also part of the illegal trade in turtle meat on Boa Vista, as it is usually they who preserve and sell the meat. By providing guidance on the production and marketing of preserved vegetable chutneys and natural soaps, we offer the women of TAMBRA a sustainable alternative to being involved in turtle poaching. By the way, the Turtle Foundation soaps that we offer through our webshop also come from this small manufactory in the north-east of the Cape Verdean island.
Regular beach clean-ups
Boa Vista's beaches suffer from a massive amount of rubbish. Washed up remnants of our civilisation that make it particularly difficult for the nesting females of the loggerhead turtle to come ashore and lay their eggs. For this reason, we organise large-scale beach clean-ups at regular intervals in cooperation with the local population and our team at Fundação Tartaruga. But what happens to the rubbish washed up from the nesting beaches? At the moment, we are planning to set up our own recycling project to make simple everyday items from the found objects.
Cooperating with fishermen
Another important target group of our social engagement for the protection of sea turtles are the fishermen of Boa Vista. There are about 70 fishing boats operating in the offshore waters. So far, little is known about the extent to which the hunting of turtles in the sea contributes to the decimation of the species. In order to involve fishermen in our project work, we started a cooperation with initially six fishermen who help us with data collection in the sea and with the tagging of turtles. In return, they received safety equipment for their boats and work clothes with individual motifs of sea creatures such as octopuses, whales and, of course, turtles.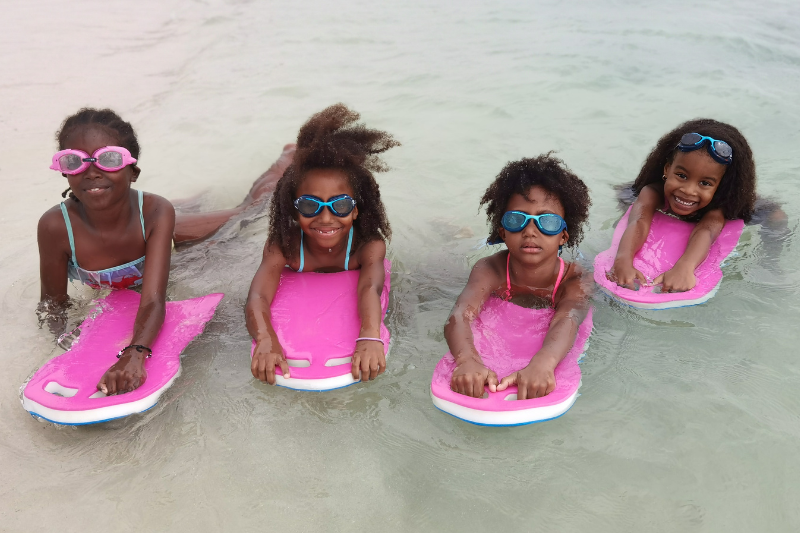 Children of Boa Vista at their swimming course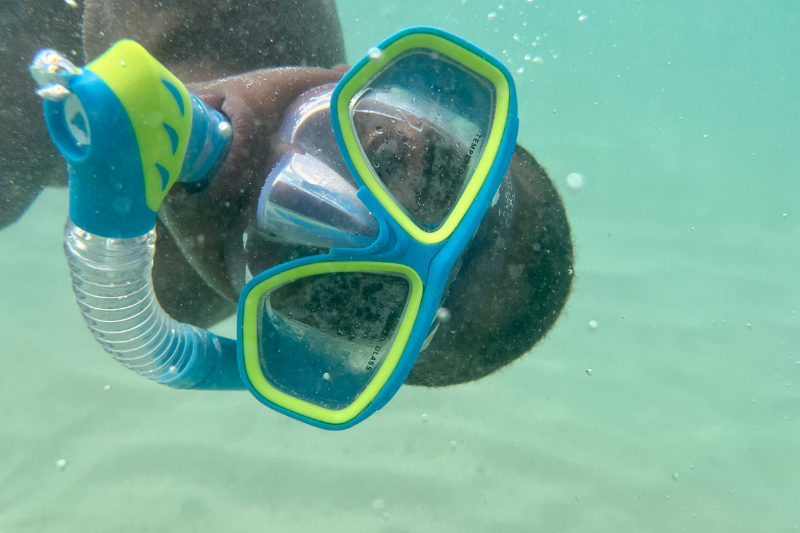 Young participant at free snorkelling course on Boa Vista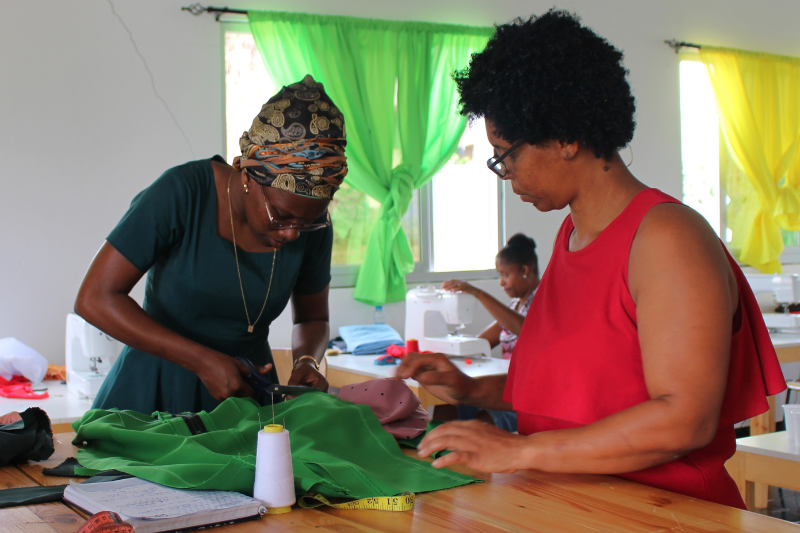 Sewers at Atelier Tarafes

Selfmade soap from the cooperative TAMBRA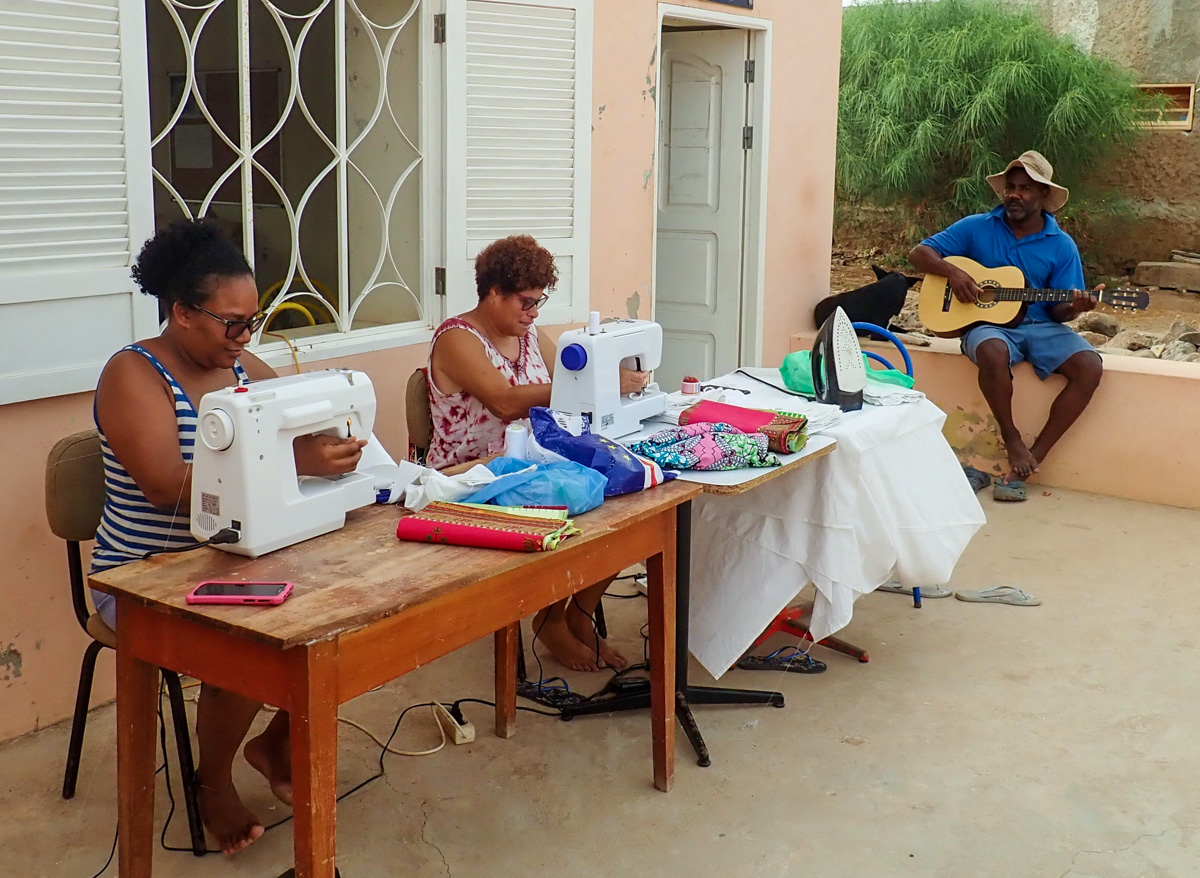 Sewing group in Cabeçã dos Tarafes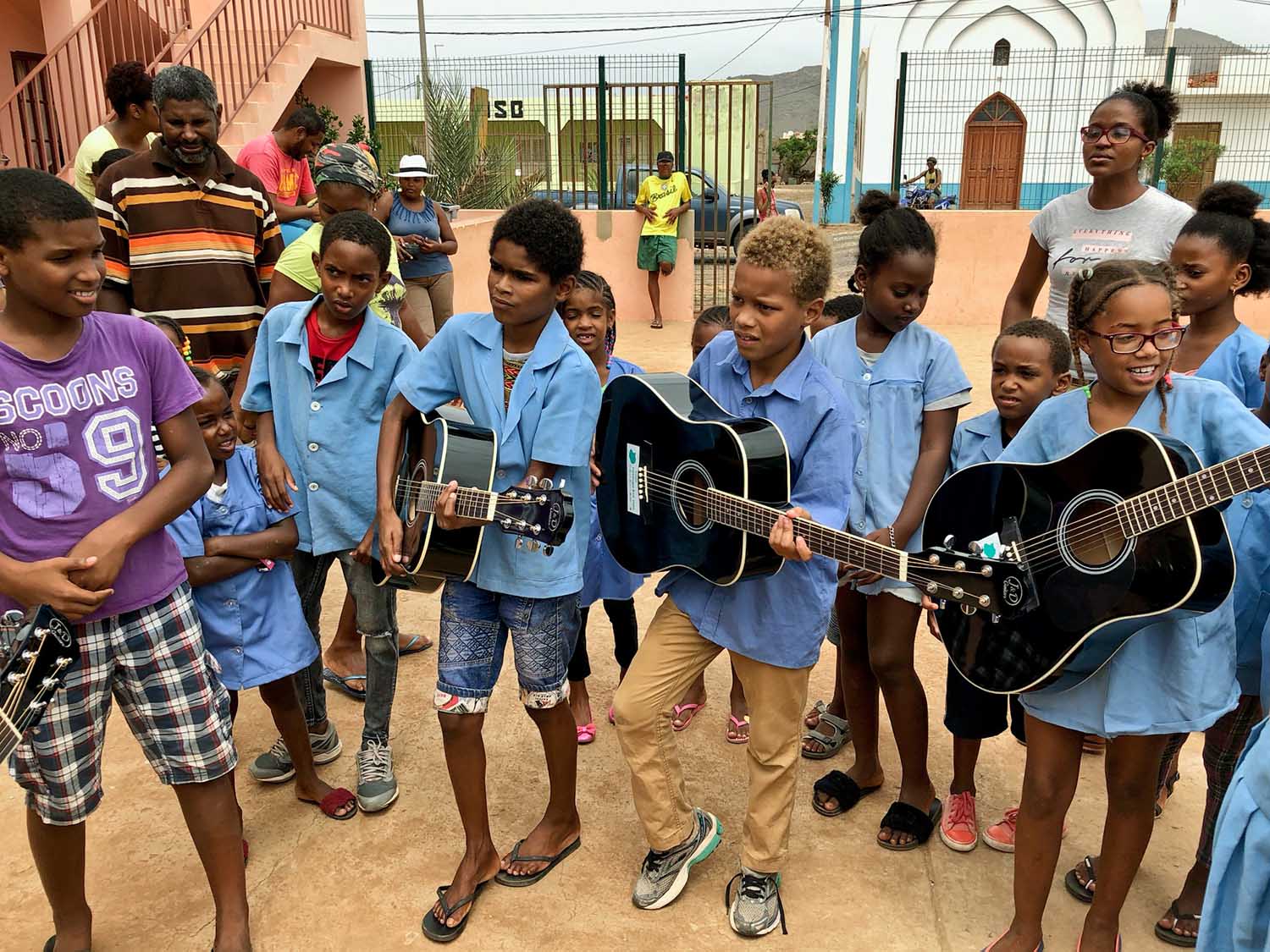 Education through musik: guitars for the local school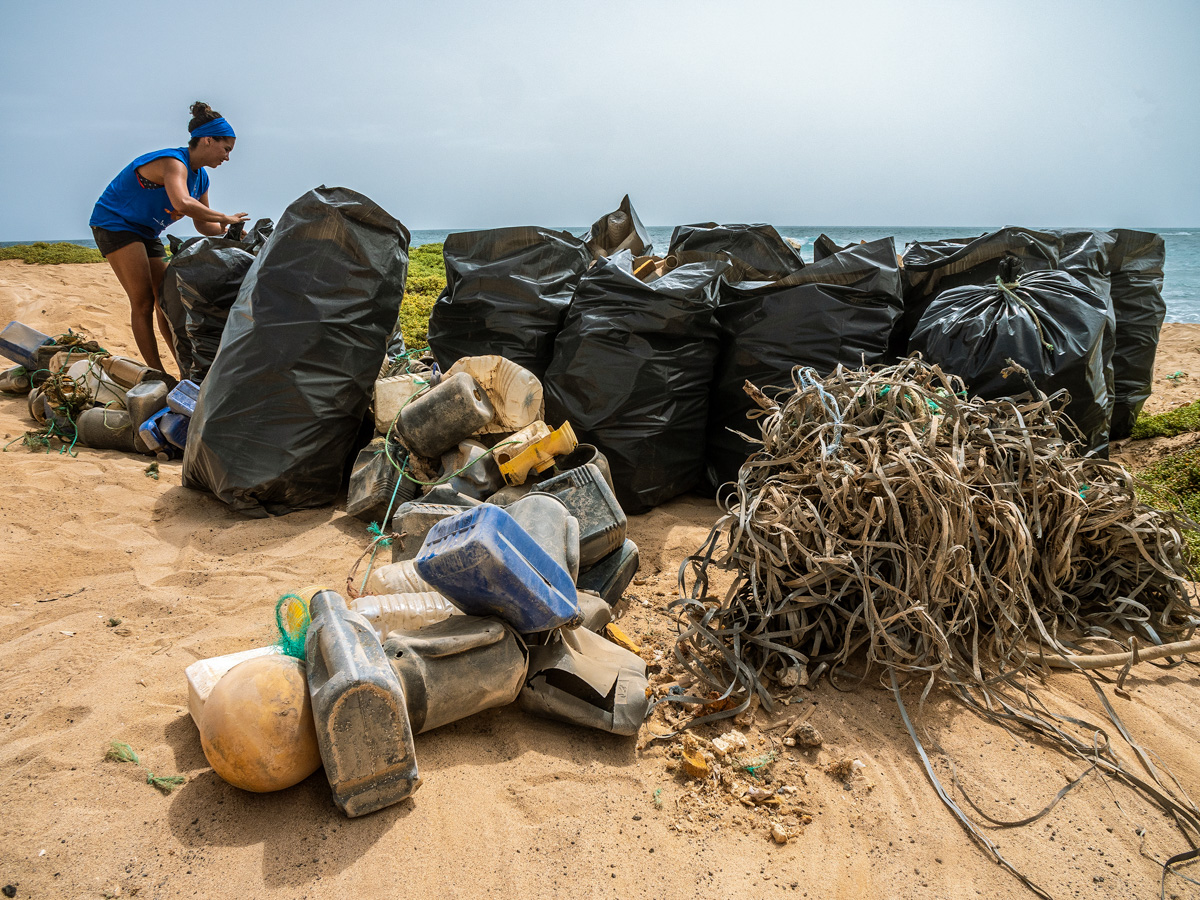 A stretch of beach is cleared of plastic waste