Rampant poaching of nesting females threatens the world's third largest nesting population of loggerhead turtles with extinction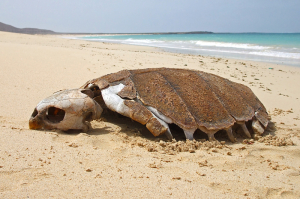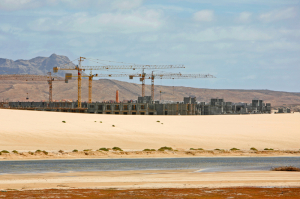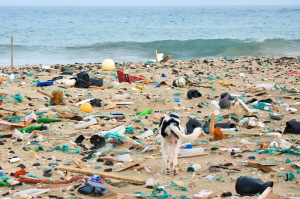 (Images: Left: The remains of killed turtles were until recently very common on the beaches of Boavista. Middle: Hotel construction projects for mass tourism threaten the turtle nesting beaches of Boavistas. Right: Trash on the beaches of Boavista poses a great problem not only for the turtles.)
The problem
Despite the fact that sea turtles are ostensibly protected by the laws of Cape Verde they are  nonetheless exposed to numerous serious threats. They are being poached both at sea and on land and due to the fact that coastal tourism development is increasing, constructions sites and buildings negatively affect the sea turtle's nesting behaviour and nesting success.
The Cape Verde nesting population of Loggerhead sea turtles (Caretta caretta) is the third largest population in the world after the nesting populations of Oman and Southeast Florida. It is estimated that up to 90% of the nesting occurs on the island of Boavista. In 2007, over 1.100 female turtles were slaughtered as they came ashore to nest on Boavista Island, Cape Verde. This number is been estimated to be over 35% of the nesting females population.
This situation has resulted in the United Nations Environment Program identifying Cape Verde as the conservation priority for Loggerhead turtles (UNEP, 2002).
Solution: Our protection project on Boavista, Cape Verde
In 2008, responding to the brutal sloughtering of loggerhead turtle females on Boavista's beaches, Turtle Foundation sent personnel to Boavista to establish a monitoring presence on Porto Ferreira beach, one of the main nesting beaches. In 2007, over 600 turtles were killed on this beach alone. In 2008, as a result of Turtle Foundations beach protection program, only 60 turtles were identified as killed on this beach, representing a 90% reduction in mortality.
By continuously expanding the protection program to additional nesting beaches – by now 5 nesting beaches with a length of nearly 30 kilometers are being protected – we have reduced the number of sea turtles killed on Boavista year after year. The nesting beaches are being patrolled and protected by Turtle Foundation with support from the Cape Verde military as well as volunteers from around the world. In addition a data collection program and turtle tagging program has been initiated.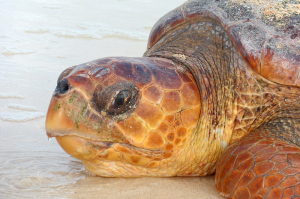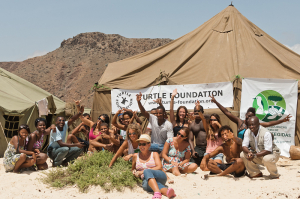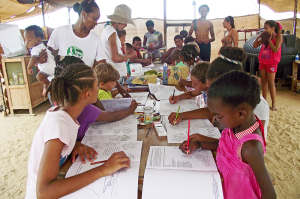 (Images: Left: Loggerhead turtle female after egg deposition. Middle: Beach camp of the Turtle Foundation in the north of Boavista. Right: Lesson of the "School in Nature" project in Turtle Foundation's beachcamp at the beach of Boa Esperança.)
The Turtle Foundation also spends a great deal of time and effort on community education and involvement and will continue to expand this program. The Turtle Foundation conducts turtle biology/conservation presentations, sponsors art and educational programs for school children, organizes beach clean-ups, provides training sessions for tour agencies for turtle walks, and other community events and will continue these activities.
Summary
Project start: 2008

Third largest nesting rookery of the loggerhead turtle worldwide

Main activity: Beach monitoring during nesting season

Extended environmental education and alternative income programs for the local population

Reduction of turtle poaching by more than 95%
Targets
Continuation of beach monitoring as long as necessary

Gradual handover of the protection measures to the local communities

Scientific research about the biology of the local sea turtle population