Adoption of a sea turtle
By adopting a sea turtle you support the urgently needed conservation work of the Turtle Foundation!
All seven species of sea turtles are threatened with extinction! The Turtle Foundation is fully committed to actively preventing the brutal slaughter of sea turtles by poachers each night during nesting season on Boavista (Cape Verde) and West-Sumatra (Indonesia). We also prevent the illegal collection of turtle eggs and the sale of the eggs on the black market on the Berau islands in Indonesia. Further information about our projects you can find under "What we do".
By completing an adoption you help prevent the extermination of sea turtles!
The minimum fee of an adoption is USD 100 / EUR 90 / CHF 100 / GBP 80 for one year.
Your sea turtle adoption pack will include:

Personal adoption certificate
Gift: Turtle USB stick, mouse pad, turtle keyring pendant, a sea turtle photograph size A4 and other (see gift list below)
Regular email newsletter
An adoption is valid for 12 months. After one year Turtle Foundation will contact you and ask you to renew it. The renewal is optional.
Tip:
A symbolic adoption makes a great present! With an adoption you show you care for both the gift recipient and the sea turtles!
Example of an adoption certificate: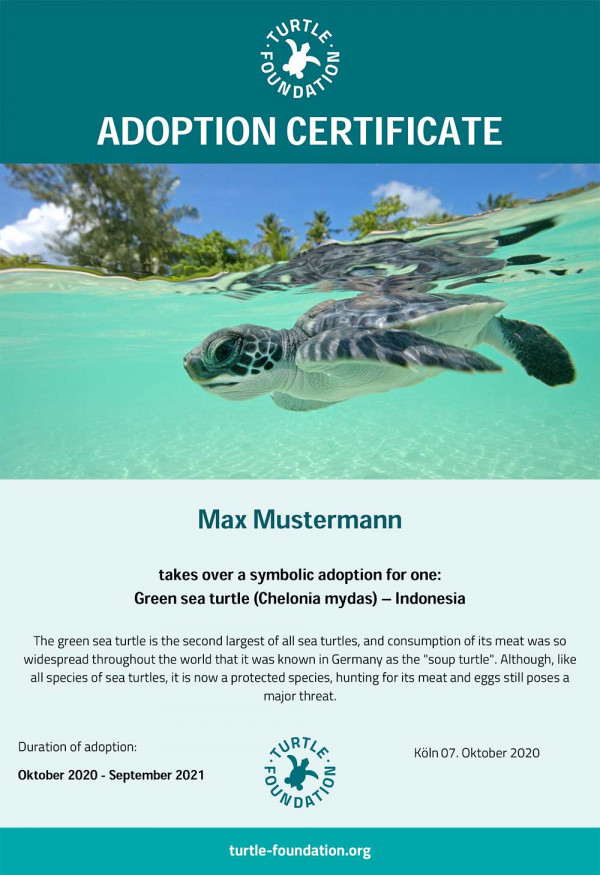 Please choose one of the gifts listed below: