Take over a symbolic adoption of a sea turtle!
By adopting a sea turtle you support the urgently needed conservation work of the Turtle Foundation!
Six of the seven remaining species of sea turtles are currently threatened with extinction! The Turtle Foundation is working to protect these adorable sea creatures in three places around the world. On Boa Vista (Cape Verde) and in West Sumatra (Indonesia) we protect the fascinating animals from attacks by poachers. Likewise, through our conservation work on two uninhabited islands in the Berau district (also in Indonesia), we prevent turtle nests from being robbed and the eggs from being sold on the black market and consumed as a delicacy.
By taking over a symbolic adoption you help us to save sea turtles from extinction!
Adoption is possible from EUR 90 / CHF 100 / USD 100 / GBP 80 per year.
With your sea turtle adoption you will receive:

Personal adoption certificate
Regular email newsletter (if required)
An adoption is valid for 12 months. After one year Turtle Foundation will contact you and ask you to renew it. The renewal is optional.
Tip: A symbolic adoption makes a great present! By taking on a symbolic adoption, you show that you care – about the recipient and about endangered sea turtles!
Example of an adoption certificate: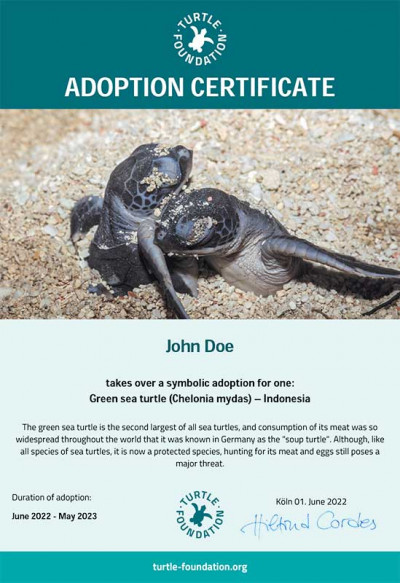 I will adopt a sea turtle!