Turtle Foundation – An initiative for the protection of the endangered sea turtles
News
(Newsletter April 2021)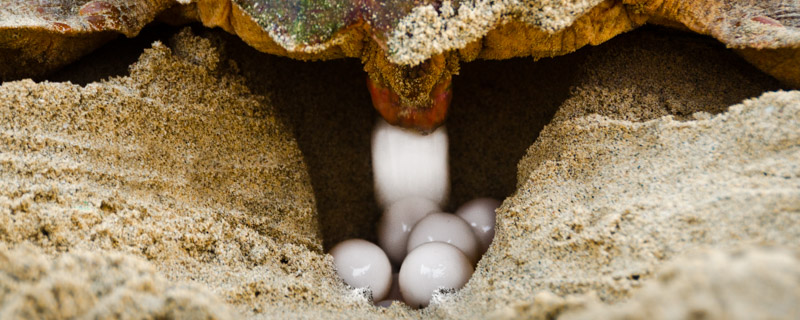 This year we have a special Easter egg for you; just in time for the holidays, we are extremely pleased to present our latest annual report:
Download Jahresbericht 2020
Among other topics, in our annual report you will learn about the impact of the Corona pandemic on our projects during the last year, and how, thanks to the creativity of our collaborators and supporters, we were able to make great progresses anyway. One example is our fight against the turtle shell trade in Indonesia, more you will find in the report.
The leatherbacks are back in our Sumatra projects!
The new year started well for the Turtle Foundation team despite all the constraints. But in Indonesia, the sea turtles surprised us directly in double respects:
When not a single leatherback turtle showed up to nest on our project beach on Sipora Island during the nesting season 2019/2020, we were very concerned that this particularly small and endangered nesting population might already be extinct. These worries grew further when leatherback turtles still failed to nest during the first few months of the 2020/2021 nesting season. But finally, in January, the first leatherback female appeared for nesting on the Buggeisiata beach of Sipora! In the meantime, the first hatchlings managed to successfully reach the sea and disappeared into a perilous but hopefully for many of them successful life.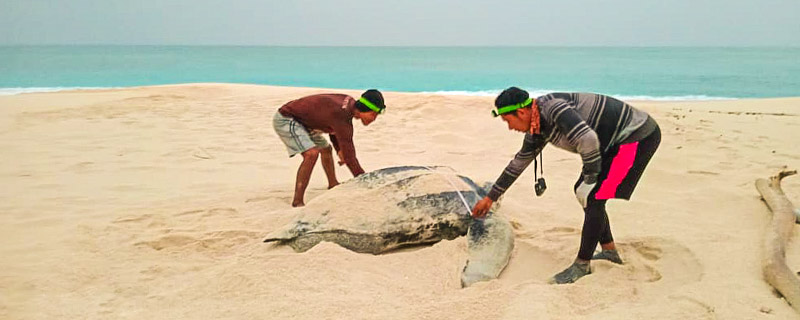 At the end of January, our staff started work in our new leatherback conservation project on Selaut Besar. We were quickly able to confirm the assumptions of our earlier research: Four of the seven extant sea turtle species nest on this small island in the Indonesian province of Aceh!
"The Summer of your Life!"In our protection program on Boavista, Republic of Cape Verde, we are looking for volunteers!
On Boavista there are jobs available for active turtle conservationists: camp coordinators, field coordinators, and a volunteer coordinator.
Here you can download the bi-weekly newsletter of our Boavista team: Turtle Times
Please help protecting!
Events/Dates
• 13th-19th Feb. 2021 | International Sea Turtle Symposium (ISTS) – Cartagena (Columbia)
• Spring 2022 | International Sea Turtle Symposium (ISTS) – Perth (Australia)
Videos
In the course of the nationwide anti-turtleshell campaign, our partner organisation Yayasan Penyu Indonesia has released this short information film. The short film is now being shown on Indonesian TV stations with a wide coverage.
Our mascot Kimi informs about the illegal sale of turtleshell products in Indonesia. The turtle explains that the production of these products means cruel torment and death for the sea turtles.
Mijke de Waal volunteered for Turtle Foundation on Boavista, Cape Verde, in September 2018, after she accomplished the famous Four Days March of Nijmegen ("Vierdaagse") in July of that year, which she dedicated to Turtle Foundation in form of a great fundraising campaign. She immortalised her memories of Boavista and her time at Camp Lacacão protecting endangered loggerhead sea turtles in this wonderful and atmospheric video.
In 2017, Turtle Foundation discovered a so far unknown nesting site of the critically endangered Northeast Indian Ocean leatherback sea turtles on Sipora, one of the Mentawai Islands off Sumatra, Indonesia. Unfortunately, the turtles there are heavily exploited for meat and eggs. Since December 2017 we are running an integrated protection project in collaboration with the local communities on Sipora to save the leatherbacks.
Blog
Turtle Foundation USA is registered as a charitable nonprofit organization according to USC 26 § 501 (c)(3). The registration number is UBI 602642586.
Turtle Foundation Germany: Trust foundation under German law, tax-exempt due to non-profit status according to the exemption notice of the tax office Köln-Süd dated 20.10.2017. Tax number: 219/5891/2089
Turtle Foundation Switzerland: Non-profit, tax-exempt foundation under Swiss law. Registration number: CH-320.7.059.335-7
Turtle Foundation Liechtenstein: Non-profit, tax-exempt foundation with its own legal personality pursuant to Art. 552 §§ 1 ff. of the Liechtenstein Person and Company Law (PGR)