Turtle Foundation – An initiative for the protection of the endangered sea turtles
News
(Newsletter June 2021)
Dear friends of Turtle Foundation,
The 16th of June is World Sea Turtle Day. Sea turtles, like any other creatures, are just awesome in their own way; in addition, they perform important functions in marine ecosystems and nesting beaches. Not only are the animals beautiful and charismatic, but they also show incredible endurance and resilience. After all, they have been successfully nesting on the beaches of the world's oceans for millions of years. It is therefore very concerning that even these robust creatures, which have not been significantly affected by many big odds in world history, are now threatened with extinction by humans. For this reason, World Sea Turtle Day was proclaimed to honor the importance of the sea turtles and to regularly bring the urgent need for their comprehensive and sustainable protection into the public spotlight.
Start of the Boa Vista nesting season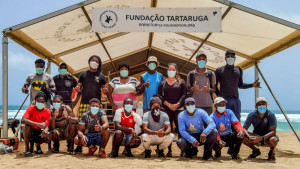 After two turtles nested ahead of schedule on Boa Vista earlier this spring, the nesting season has now officially started. Our camps on the beaches of Boa Esperança, Canto, Curral Velho, and Lacacão were set up last week and our rangers are ready to protect the nesting female turtles from poachers. Even though we do not have the help of most of our international volunteers this year again, we are optimistic that we will be able to manage this season with our combined forces!
New videos from the Boa Vista project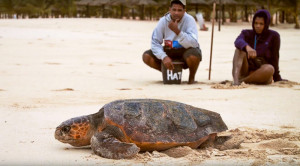 To offer you a direct and vivid impression of our work for the endangered loggerhead sea turtles on Boa Vista island, we have diligently used the time before the nesting season to create a series of informative image videos about the main tasks of the project.
Four different species of sea turtles on Selaut Besar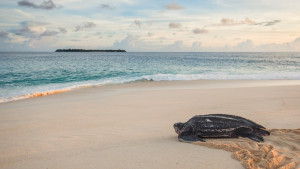 Also a lot is going on on our new project island Selaut Besar in the Indonesian province of Aceh off West Sumatra. The project is primarily focused on the protection and research of the leatherback turtles, which are particularly endangered in this region. Last April, there was a pleasant surprise: Our rangers discovered a nest of the highly endangered hawksbill turtle! This revealed that four of the existing seven sea turtle species nest on the small, remote island: the hawksbill turtle, the green sea turtle, the olive ridley turtle and of course the impressive leatherback turtle!
"The Summer of your Life!"In our protection program on Boavista, Republic of Cape Verde, we are looking for volunteers!
On Boavista there are jobs available for active turtle conservationists: camp coordinators, field coordinators, and a volunteer coordinator.
Here you can download the bi-weekly newsletter of our Boavista team: Turtle Times
Please help protecting!
Events/Dates
• 13th-19th Feb. 2021 | International Sea Turtle Symposium (ISTS) – Cartagena (Columbia)
• Spring 2022 | International Sea Turtle Symposium (ISTS) – Perth (Australia)
Videos
In the course of the nationwide anti-turtleshell campaign, our partner organisation Yayasan Penyu Indonesia has released this short information film. The short film is now being shown on Indonesian TV stations with a wide coverage.
Our mascot Kimi informs about the illegal sale of turtleshell products in Indonesia. The turtle explains that the production of these products means cruel torment and death for the sea turtles.
Mijke de Waal volunteered for Turtle Foundation on Boavista, Cape Verde, in September 2018, after she accomplished the famous Four Days March of Nijmegen ("Vierdaagse") in July of that year, which she dedicated to Turtle Foundation in form of a great fundraising campaign. She immortalised her memories of Boavista and her time at Camp Lacacão protecting endangered loggerhead sea turtles in this wonderful and atmospheric video.
In 2017, Turtle Foundation discovered a so far unknown nesting site of the critically endangered Northeast Indian Ocean leatherback sea turtles on Sipora, one of the Mentawai Islands off Sumatra, Indonesia. Unfortunately, the turtles there are heavily exploited for meat and eggs. Since December 2017 we are running an integrated protection project in collaboration with the local communities on Sipora to save the leatherbacks.
Blog
Turtle Foundation USA is registered as a charitable nonprofit organization according to USC 26 § 501 (c)(3). The registration number is UBI 602642586.
Turtle Foundation Germany: Trust foundation under German law, tax-exempt due to non-profit status according to the exemption notice of the tax office Köln-Süd dated 20.10.2017. Tax number: 219/5891/2089
Turtle Foundation Switzerland: Non-profit, tax-exempt foundation under Swiss law. Registration number: CH-320.7.059.335-7
Turtle Foundation Liechtenstein: Non-profit, tax-exempt foundation with its own legal personality pursuant to Art. 552 §§ 1 ff. of the Liechtenstein Person and Company Law (PGR)