Turtle Foundation – An initiative for the protection of the endangered sea turtles
News
(Status December 2020)
The poaching of nesting sea turtles, the collection of their eggs, and the destruction of their habitats are threatening the survival of these fascinating and charismatic animals worldwide, which perform important functions in the ecology of our oceans. You can read about how Turtle Foundation faced the threats to the sea turtles in this special year marked by the Corona pandemic in our brief annual review. Please download it or view it directly in your browser by clicking on the following link: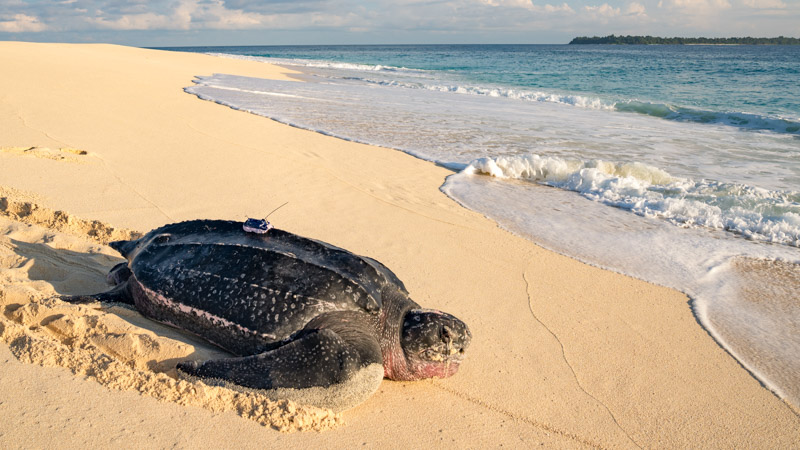 Without anticipating too much: In our Boa Vista project we have again registered an increase in nesting activity – there was a new record in the number of nests! On the Indonesian island of Selaut Besar in West Sumatra, we have launched a new project to protect the rare leatherback turtles. In order to stop the trade in turtle shell products in Indonesia, we had to make program changes to our nationwide education campaign due to the pandemic. In East Borneo, we expanded protection of the green sea turtle in one of its most important nesting areas. Learn more about our work in our PDF newsletter.
Bild: Leatherback turtle with satellite tag on Selaut Besar, West Sumatra, Indonesia
"The Summer of your Life!"In our protection program on Boavista, Republic of Cape Verde, we are looking for volunteers!
On Boavista there are jobs available for active turtle conservationists: camp coordinators, field coordinators, and a volunteer coordinator.
Here you can download the bi-weekly newsletter of our Boavista team: Turtle Times
Please help protecting!
Events/Dates
• 13th-19th Feb. 2021 | International Sea Turtle Symposium (ISTS) – Cartagena (Columbia)
• Spring 2022 | International Sea Turtle Symposium (ISTS) – Perth (Australia)
Videos
In the course of the nationwide anti-turtleshell campaign, our partner organisation Yayasan Penyu Indonesia has released this short information film. The short film is now being shown on Indonesian TV stations with a wide coverage.
Our mascot Kimi informs about the illegal sale of turtleshell products in Indonesia. The turtle explains that the production of these products means cruel torment and death for the sea turtles.
Mijke de Waal volunteered for Turtle Foundation on Boavista, Cape Verde, in September 2018, after she accomplished the famous Four Days March of Nijmegen ("Vierdaagse") in July of that year, which she dedicated to Turtle Foundation in form of a great fundraising campaign. She immortalised her memories of Boavista and her time at Camp Lacacão protecting endangered loggerhead sea turtles in this wonderful and atmospheric video.
In 2017, Turtle Foundation discovered a so far unknown nesting site of the critically endangered Northeast Indian Ocean leatherback sea turtles on Sipora, one of the Mentawai Islands off Sumatra, Indonesia. Unfortunately, the turtles there are heavily exploited for meat and eggs. Since December 2017 we are running an integrated protection project in collaboration with the local communities on Sipora to save the leatherbacks.
Blog
Turtle Foundation USA is registered as a charitable nonprofit organization according to USC 26 § 501 (c)(3). The registration number is UBI 602642586.
Turtle Foundation Germany: Trust foundation under German law, tax-exempt due to non-profit status according to the exemption notice of the tax office Köln-Süd dated 20.10.2017. Tax number: 219/5891/2089
Turtle Foundation Switzerland: Non-profit, tax-exempt foundation under Swiss law. Registration number: CH-320.7.059.335-7
Turtle Foundation Liechtenstein: Non-profit, tax-exempt foundation with its own legal personality pursuant to Art. 552 §§ 1 ff. of the Liechtenstein Person and Company Law (PGR)