Finally the rain season started in the beginning of November. We are very happy about it because the rain put an end to a long period of suffering: forest fires, air pollution, and haze struck Sumatra and Kalimantan very hard. The long dry season was also difficult for turtles and rangers: digging holes for the nests was very hard for the turtles, because the dry sand always filled the hole again. The rangers had the same problem with relocating nests and it took almost one hour to relocate one single nest during September and October. Since the rain started and the sand is wetter, we can do the same work in 20 minutes.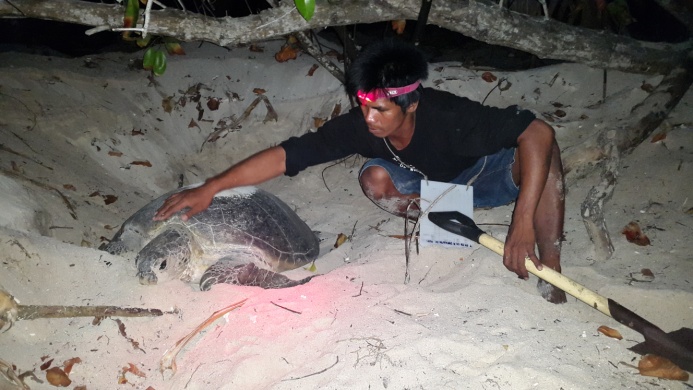 This month, our management team made another trip to the island Derawan to check the situation with turtle shell souvenirs and to continue our education campaign. I was happy to see that our campaign slowly starts to show results. Since my last visit in September another shop stopped to sell turtle shell products. Our campaign includes to provide shop owners with nice T-shirts for a very good price if they commit to stop selling turtle shell products. The shop owner promised in September, not to order new turtle sheel products anymore and just sell what she still had in stock. She kept her promise and could therefore place her first order of 30 T-shirts.
It still is a long way to convince all shop owners but this was a step forward! Interesting also is that many people started to show big interested in our handicraft workshops, which are also part of our campaign. Hopefully we will be able to organise our first workshop on Derawan in January.
I also taught in a kindergarten about turtles. I used our tool-kit and we spoke about turtles, their live and how to help them. I know that these kids are very young but I strongly believe that this slow introduction of the topic has influence on them. It certainly has influence on their teachers: when I was in the same kindergarten in April, several children were wearing bracelets from turtle shell. Now in November there was no single child using it. The teachers explained to me, that after my last visit they talked to the parents about these bracelets and prohibited wearing them at school. This I think is big progress.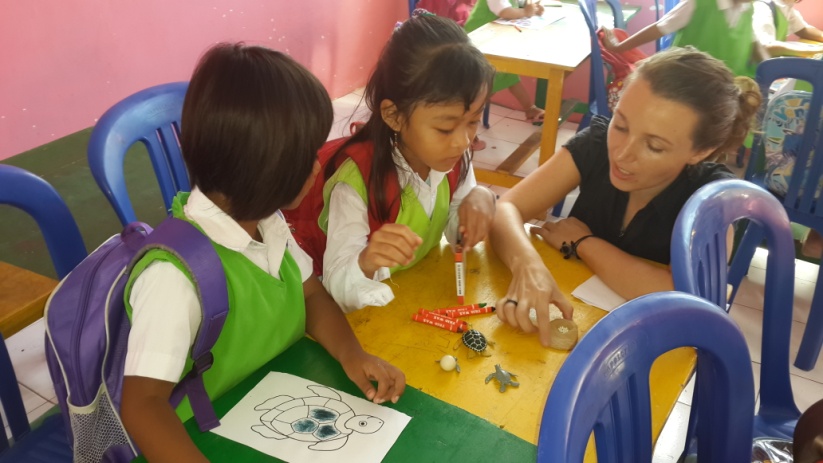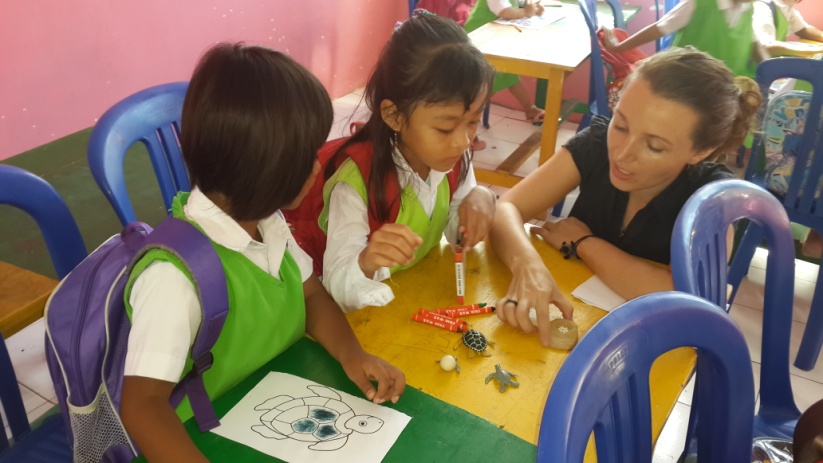 Yours,
Hana Svobodová
Hana Svobodová, MSc., is biologist and is working in Indonesia as volunteer coordinator for the Turtle Foundation's conservation project in East Borneo. She is regularly reporting about news and events regarding our project.