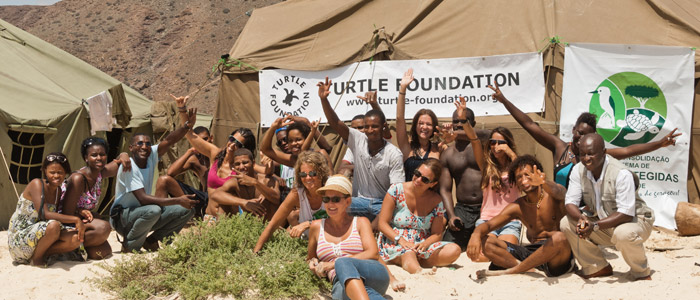 Nesting season / working period: 15 June – 31 October
Anyone is welcome to apply for volunteering in our sea turtle conservation project on Boavista as long as he/she meets the basic requirements.
Before you apply for volunteering, please read carefully our GENERAL INFORMATION document (PDF) for all necessary information about our project, your duties and responsibilities as a team member, local living conditions, etc. This PACKING LIST (PDF) provides you with more detailed information about necessary equipment for your stay. All volunteers will participate at their own risk. Please read our RISK WAVER (PDF) carefully. Successfull applicants will be asked to sign this risk waiver upon arrival on Boavista.
Applications for volunteer's positions can be made for this year's and the next year's nesting season (15 June – 31 October).
Please use the online volunteer application form you find below.
Long term volunteers who want to stay for eight weeks and more are requested to send a CV that can be attached application form.
Only complete applications will be considered. Thanks for your understanding!
Prior to applying
Before you decide to apply you should be sure that you can answer the following questions with a clear and honest "YES":
Did you carefully read our General Information document?
Are you at least 18 years?
Are you aware that …

… working as a volunteer in the field can be very hard and time consuming?
… while your work to protect and preserve sea turtles will certainly be educational, interesting and exciting at times, and always rewarding, volunteer work can also be tedious, repetitive, and boring sometimes?
… our work will often be carried out under difficult and uncomfortable conditions (e.g., marching through the sand at night, in the heat, mosquitoes)?
… there won't be much free time besides work and that you will miss out on sleep?
… you will live in basic shared accommodation (shared tent in campsites), and you will spend your nights at the nesting beaches (you can rest in a tent in your free time)?
… food uses local ingredients, is based on local standards, and therefore often repetitive and simple?
… you will work and live alongside with young, local soldiers, who do not speak a language other than Portuguese/Creole?

Are you willing to pay for your travel costs to the project as well as a daily fee for food and lodging?
Are you willing to stay and work for at least two (preferably three or more) weeks with our project?
Are you able to converse, receive and understand instructions in English (our working language) or Portuguese?
If you can't answer "YES" to all the above questions, it is unlikely we will be able to take you as a volunteer. If you have any questions or concerns, please don't hesitate to contact us.
Online application form for volunteers
Of course we are respecting the existing data privacy protection regulations. Your data will be used within the Turtle Foundation only, and will not be disclosed to third parties. Please also read our privacy policy.
Fields indicated with asterisk (*) are mandatory.